2009: A Year of Culture
How can I be a cultural icon without any knowledge of culture, you're probably asking ? When I'm not sure I've seen a music gig this century ? When I haven't seen a play in the last year ? When I think a gallery is a type of ship ? When my music collection consists of the best of various '80s acts, including Tracey Ullman (quite a good CD, actually) ? Good question, and here is my response: to indulge in a cultural pastime every week in 2009. There need to be some rules for this, and after extensive consultation (with my imaginary dog) they are as follows:
Dictionary.com defines culture as "The quality in a person or society that arises from a concern for what is regarded as excellent in arts, letters, manners, scholarly pursuits, etc." Not too precise, so I have some license here - essentially, we're concentrating on arts and heritage, though.
Highbrow or lowbrow, it's all the same. A Status Quo concert is as valid as a Hungarian string quartet on unicycles.
Modern films don't count, or I could just go to the cinema each week.
Sports events don't count (not even a Premiership footballer's dive).
I need to make an effort.
I should sample from the full variety of culture (but perhaps not ballet).
Each week ends at midnight on Sunday.
No taking the mickey, unless they really really deserve it.
This is actually going to be hard.


Week 1: 1-4 Jan
Art galleries of Winchester: Ok, my odyssey started on Fri 2 Jan with the art galleries of Winchester. There were four on my list - one was closed and I couldn't find one, leaving Rowley Contemporary Art on Great Minster Street and Bell Fine Art on Parchment Street. I have to confess I like paintings of 'real' scenes - landscape, seascape, nature or bustling activity; and not so much anything weird or nondescript (like a plate of fruit). Nothing changed my mind here - there were some wrong-sized or shaped people or overly-straightened or curved scenes; clever undoubtedly, but not ready to go next to the Rudolf (the reindeer) picture in my flat. Where I earned my culture marks, though, was for my appreciation of the Rod Pearce exhibition at the Rowley, and my new knowledge of what oil painting is. The Rod Pearce paintings were brilliant atmospheric pictures of cities and landscapes with water and sky particularly well done. They were mere splodges on canvas, but you could always see exactly what they were (e.g. master and dog in tree-lined twilight lane) without any of the details really being there. I could see why people would spend £2000 on these. The proprietress told me they were oil paintings (once she realised I didn't know). Culturally enhanced, I headed for a swift pint.




Week 2: 5-11 Jan
Wildlife Photographer of the Year Exhibition, Natural History Museum: I headed to London for some shopping on Sat 10 Jan - what could be easier than to divert myself to the Natural History Museum and check out the Wildlife Photographer of the Year exhibition ? And why did that kind of thinking never occur to me before ? You can't go wrong with wildlife photos, especially those of the outstanding quality here. There were over 30,000 entries to the competition and the exhibition showed about 120 of them - all the winners, runners-up and highly commended photos in the various categories. I spent about 90 minutes there - you can also see the photos online (see the links to my favourites below), but of course that wouldn't be the same.

Here are a few of my observations:
The Natural History Museum itself is massive and looks very impressive (dinosaurs and stuff). I didn't allow myself to get distracted but headed straight for the wildlife exhibition.
The overall winner was a snow leopard. Although this was a fantastic picture, the prize must have been influenced by the rarity and inaccessibility of the subject (a snow leopard roams over massive territories in the mountains of Central Asia) and the dedication required to capture it. The picture was actually taken by a remote camera trap, so there is scope for debate as to whether that's as 'worthy' as taking the picture in person.
Arctic terns (see third picture below) spend eight months on the wing and migrate from the Arctic to the Antarctic and back. Why ? They're going to get to the Antarctic and realise it's just like the Arctic.
My favourites were as follows: Culturally enhanced - and to establish a tradition - I headed for a swift pint.


Week 3: 12-18 Jan
Pub band at The Bishop on the Bridge: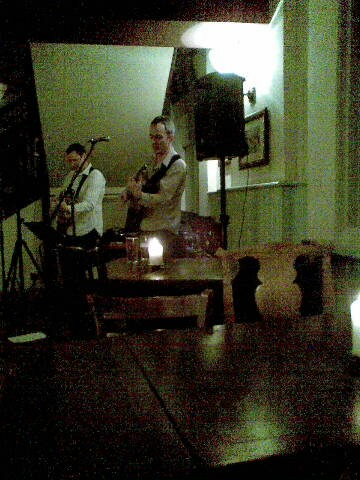 Well, I actually got some people to join me this time - Jamie, Marcia, Rachel and I sampled an evening (Fri) at the Bishop on the Bridge in Winchester. They have bands every Friday night. On this night Acousterix were playing...or was it Acoustix. Anyway, they looked like the photo on the left. They played old stuff - '60s to '90s - exactly as a pub band should do. There was even a Monkees song in there. Terrific. I would've gone for a swift pint afterwards, but had been in the pub all evening anyway.
Week 4: 19-25 Jan
Comedy Night at Winchester Discovery Centre: Barnstormers Comedy present comedy at venues throughout England - the idea being to bring bigger (often London) acts to smaller venues on a once-a-month basis. Winchester Discovery Centre hosts one of these nights on the third Friday each month. And hence, on Fri 23 Jan, I found myself accompanying Catherine, Bruce, Rachel, Miranda and Sarah to watch three comedy acts introduced by the compere, Stuart Goldsmith. The acts were Adam Crow, Noel Britten and Simon Fox. Stuart Goldsmith and Noel Britten were the best. Here's the thing, though - after three hours at a comedy night, with lots of good jokes, can you remember any of them ? The one that stuck in my mind was a sketch about dogs with human names (including surnames) - if you're Guy Cook it's posh to be able to say this is my dog Martin Cook, but even better if the dog has a different surname, e.g. Martin Henderson. And if there are lots of dogs milling around you can't just call for Martin; there might be several Martins around and they'd all prick their ears up - you have to call Martin Henderson and he'd think 'Ah, that's me.' It was probably told better on the night.
Week 5: 26 Jan -1 Feb
Southampton City Art Gallery: This week was a bit desperate - 2:00 on Sunday and no culture. I redeemed myself by getting to Southampton City Art Gallery at 3:00, one hour before it closed. Initially I had a brief look round the main gallery and saw nothing that interesting; my heart sank when I saw a sign pointing to eight more galleries. Lots of the pictures were superbly painted (especially, for me, 'real scenes' - see Week 1) but they just merged into each other. The point of this is that I am not just going through the motions, but am engaged - and then I was saved by two pictures:
George Shaw's Scenes from the Passion: The Unicorn: George Shaw paints pictures from the Tile Hill estate in Coventry where he grew up in the 70s. The painting material is unusual - he uses Humbrol enamels which are used for painting airplane models and make them very shiny. The main thing that stood out for me, though, was that he paints depopulated scenes (there are no people, signs or evidence of life) which gives it an eerie quality, especially when you stand back from the picture. The detail was fantastic as well. The Unicorn was a picture of a suburban house and drive. There are lots of pictures in the series, but it's difficult to find them on the web - try here for some information and another picture.
LS Lowry's July, the Seaside: Everyone of a certain age will recognise "He painted Salford's smokey tops/On cardboard boxes from the shops/And parts of Ancoats where I used to play...And he painted matchstalk men and matchstalk cats and dogs" (Ancoats is a district of Manchester, if you didn't know). A great song ruined by the kids singing on it - the same thing happened with Clive Dunn's Grandad, but we're getting off topic. Anyway, I hadn't seen an LS Lowry painting that I could recall. They're fascinating with loads going on and lots of detail (unless you look closely, when, of course, they're just matchstalk men). See LS Lowry for his Wikipedia entry, and look here for the "July, the Seaside" picture, but you can find LS Lowry prints all over the web. For the briefest of biographies: he produced about 1000 paintings and 8000 sketches, many of northern industrial scenes (especially Salford); he worked as a rent collector until retirement at 65, keeping his job a secret from the public; the largest collection of his work is displayed at The Lowry in Salford Quays; he died in 1976 at 88.
Culturally enhanced once again, I headed for the obligatory pint at The Walkabout (and there was football on).


Week 6: 2 Feb -8 Feb
Jacobite Monument, Glenfinnan: Well, this week was a struggle. I was in Fort William with the lads from Thursday to Sunday, in the mountains each day - which gave little scope for finding any culture (except Ian's cooking). However, on Fri 6 Feb, we parked at Glenfinnan to climb Sgurr Thuilm and noticed a spectacular monument and the nearby Glenfinnan Visitor Centre.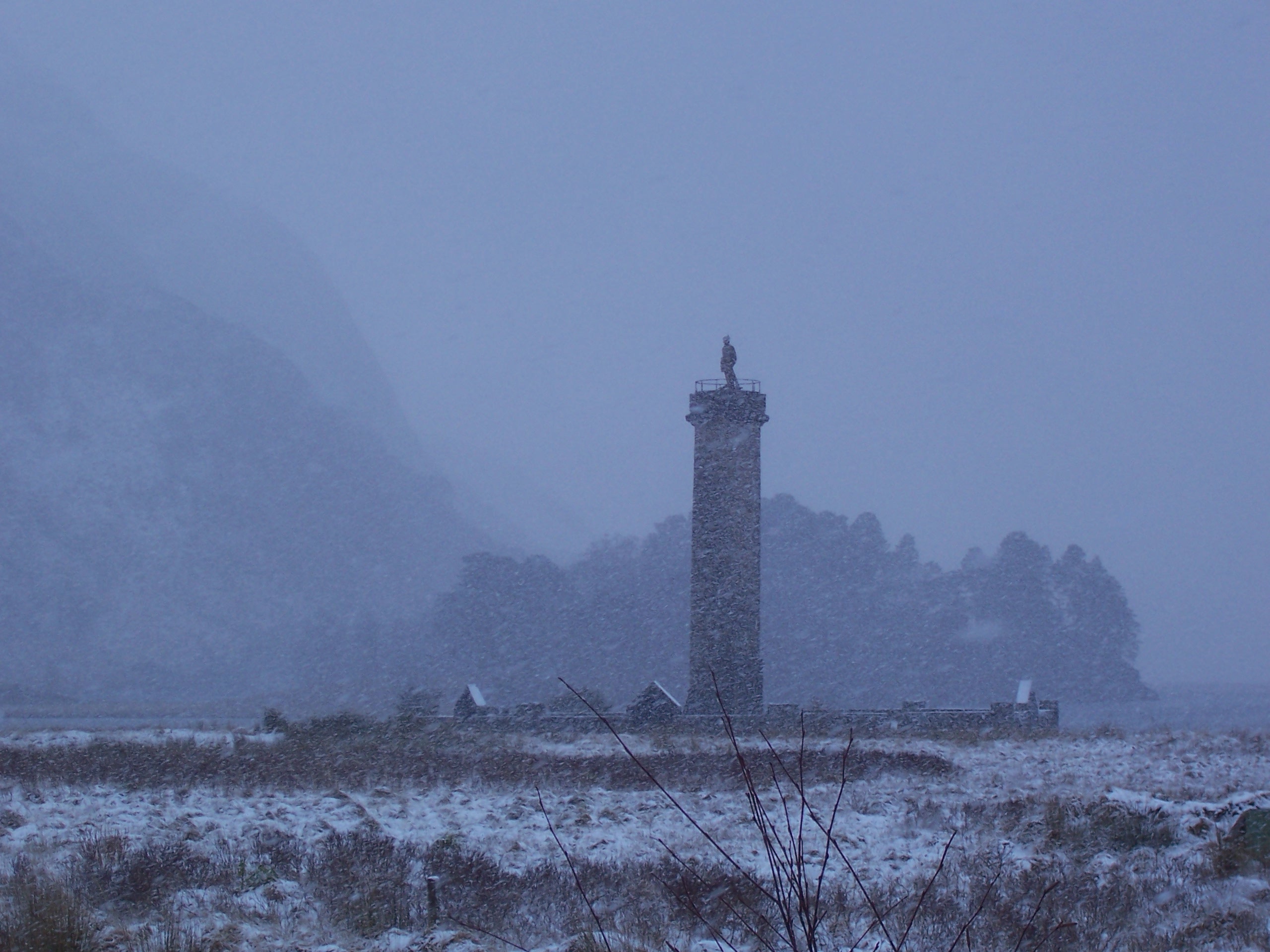 After the day's walking, Nick, Steve and I wandered over to the monument (the Visitor Centre was shut), looked at the plaques and took a few photos. We spent about 10 minutes there and I have to admit it is marginal as to whether I can count this as I was just going through the motions. However...once I started to read up about the Monument it was interesting. Here's the gist: Jacobites were supporters of King James II of Britain who fled to France in 1689 and their aim was to restore the Catholic Stuarts to the throne. Charles Edward Stuart (Bonnie Prince Charlie) was James' grandson and arrived in Scotland to lead a Jacobite uprising in 1745. He raised his standard at the head of Loch Shiel on 19 Aug 1745 and gathered supporters from all over Scotland to lead an attack on the English throne. They were spectacularly successful at first, but retreated after reaching Derby. The Jacobites were eventually routed and slaughtered at Culloden on 16 Apr 1746, the last pitched battle on British soil; Charles escaped and made it back to France a few months later. The monument - a stone tower with a statue of a kilted highlander on top (not the prince) - was erected in 1815 by a Jacobite descendent near the site the standard was raised. There are whole books on the 1745 uprising and loads more to say - how Prince Charlie was an alcoholic, why the English Stuarts didn't support him, why the attack wasn't well co-ordinated with the French, etc. Try here or here for more information. As a matter of interest, Steve and I visited Urquhart Castle on the way home on the Mon (9 Feb), but that didn't count as that is in the next week - and was to be overshadowed by ...
Week 7: 9 Feb -15 Feb
Status Quo at Plymouth Pavilions: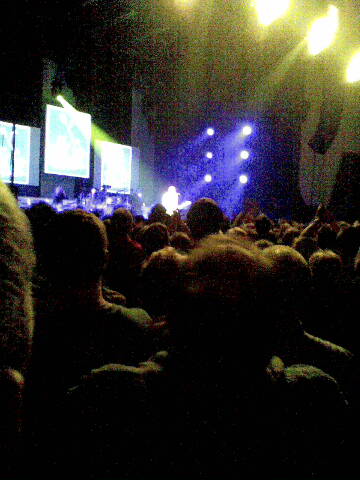 Need I say more ? Fri 13 Feb found me at Plymouth Pavilions for a concert by the Quo - Francis Rossi, Rick Parfitt and all. Definitive proof is provided by the picture on the left. I sometimes work at my company's offices in Plymouth so I emailed to see if anyone else wanted to go - all I got was comments about zimmer frames and the search for a fourth chord. Suffice to say they missed out, not appreciating the sheer superstardom the Quo's longevity and hit-drenched back catalogue has granted them. Like any great rock band the entrance is spectacular - there's a support act, and then they make you wait and wait, the lights dim, there's an explosion of noise...and there they are, playing Sweet Caroline. I remember Rolf Harris doing much the same thing ten years ago in Manchester. The Plymouth venue was impressive - most people were in the standing section and there was easy access to the bar throughout. The concert was actually great (honest) with two hours of hits, an encore, and a swift pint to follow. For the record: Status Quo's first top ten hit was in 1968; Rossi and Parfitt were there from the start; they're both 59; there's been over 20 top ten hits and a single number one (Down Down); and, of course, they opened Live Aid with Rockin' All over the World. Terrific.
Week 8: 16 Feb -22 Feb
Solent Sky Museum, Southampton:
This weekend was another last minute effort, with a trip to Solent Sky on Sun 22 Feb. Once again, it seemed like I was going through the motions, arriving at 3:00pm, an hour before last entries - and once again, I gradually became engaged. To quote, "Solent Sky depicts the history of aviation in the Solent area and Hampshire. This small geographical area was arguably the most important area in the world for aircraft experimental and development work for civil and military aircraft operation. The Museum tells the story of 26 aircraft companies, the largest flying boat operation in the world and in particular the legendary Spitfire designed at Supermarine by R.J.Mitchell in the heart of the City of Southampton." I was unaware that the Spitfire, so vital for us in the Second World War, was developed and manufactured by a Southampton company (Supermarine). The production works at Woolston were destroyed by Luftwaffe bombing in September 1940, and a government policy was initiated such that production and assembly was dispersed throughout the Southampton area and this was maintained throughout the war. As well as the Spitfires, the history of local aviation companies is interesting, with focus at times on the First and Second World Wars and at times commercial. The Solent area was particularly attractive for the manufacture of flying boats and the biggest display item in the museum is a Sandringham flying boat, Beachcomber, which you can look round - looks like a luxurious double decker bus inside. Flying boats generally were very successfully commercially until the 1950's, gradually being superceded by land planes (especially as so many runways had been laid during the war). The local flying boat services were brought to an end in 1957 after a crash on the Isle of Wight killed 43 people - see here. I was pretty much working all weekend, so no pint afterwards.
Week 9: 23 Feb -1 Mar
St Cross Hospital / Winchester football: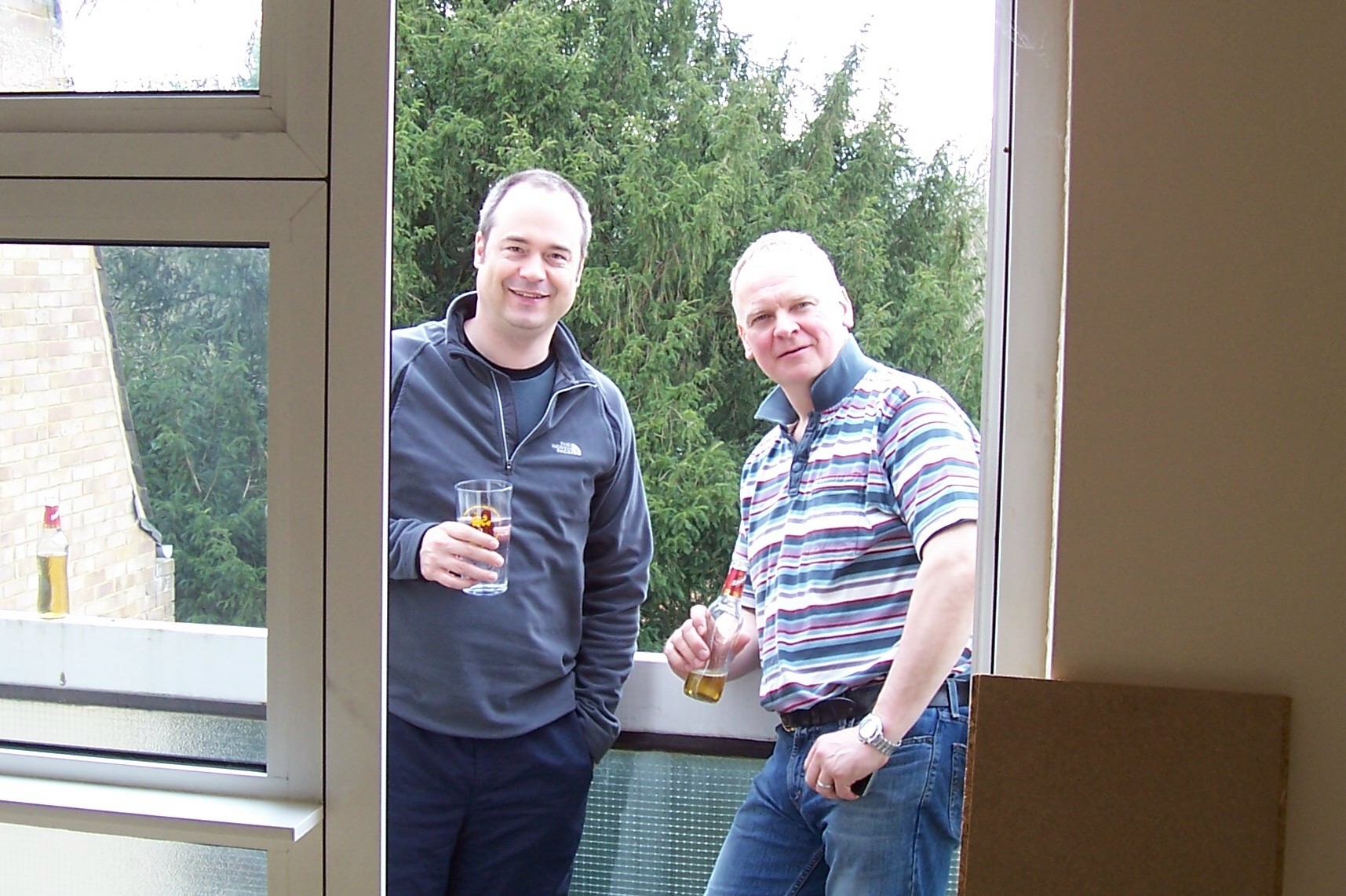 I had the lads (Sean and Duncan, pictured) down for the weekend; they were naturally keen to sample whatever culture I could find as long as it didn't interfere with the England-Ireland rugby match, the drinking, the clubbing or the kebabs. St Cross Hospital is about half a mile down the road from me, and we headed there first on the Sat. I had actually been there before, but I'd never partaken of the Wayfarer's Dole (beer and bread) which you only get if you request it at the Porter's Gate. We quickly rectified this - for the record, the beer is London Pride. The hospital is an almshouse supporting a community of 'brothers'. There is a 12th century church, accommodation and a hall dating from the 15th century, and a garden - all set in the picturesque St Cross meadows. The brothers are given flats in the grounds, pay a rent depending on ability, and have to attend church daily (but are not part of a religious order). Catherine the porter was very informative and patient with our queries, especially those on how to become a brother. Basically they have to be over 60 and unattached, and there isn't a waiting list; and then they have it pretty easy. We'll all be back in 20 years.
On the way into town from St Cross, we heard roars coming from Winchester College. The gates were open and we watched the last 15 minutes of what we found out later was Winchester football. It's a mixture of football and rugby and is played with a football on a long narrow pitch, the aim being to kick the ball over the opponent's line - it's basically a kick and charge games, the skill being to kick straight. The game dates back to the 16th century and was first played on top of St Catherine's hill (in Winchester). It looks like only Winchester College play this game now, but it was apparently the dominant code in South Africa until 1878. Culture done, the town beckoned.
Week 10: 2 Mar -8 Mar
The Zoo (Marwell, Hants):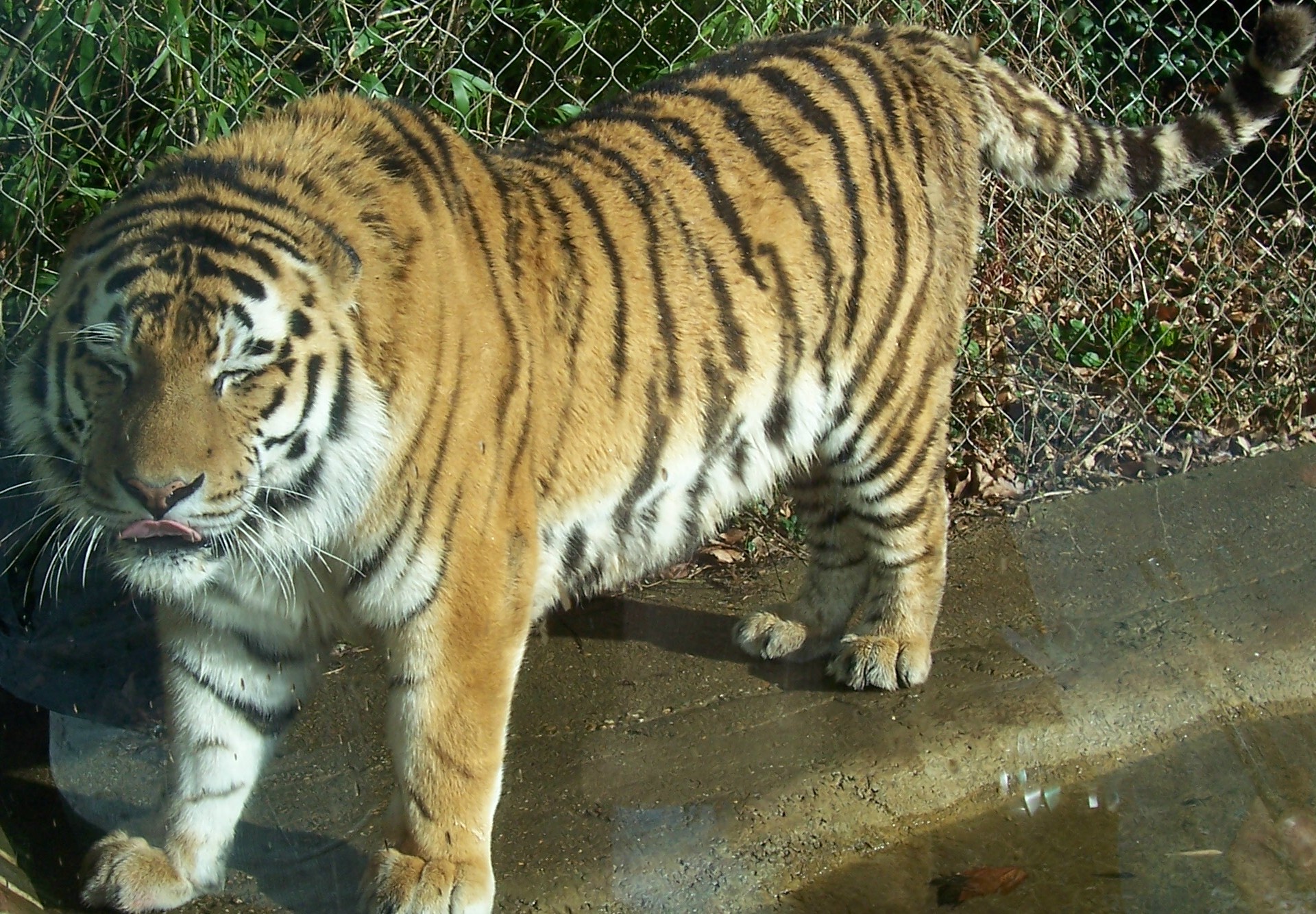 Whenever it gets left until the Sunday afternoon you know I'm struggling. And so Sun 8 Mar found me flicking the internet, with faltering motivation for another museum visit. And then ... the zoo beckoned in the shape of Marwell Zoological Park. I hadn't been to the zoo for years; and of course the zoo means real popular culture with tigers, cheetahs and all. Well, the zoo's the zoo. It's always going to be good - here are a few quick notes:
The big cats and especially the tigers are the most impressive animals.
They have a snow leopard which is impressive - and also creates a link to my week two entry (see the winning photo). Sticking with the cats, they are also big on cheetahs and have a breeding programme.
And still with the cheetahs: the fence is not high enough. If I was those cheetahs I could easily escape. They just need to push one of their shelters towards the fence and rotate it 90 degrees, and then they could use it as a springboard.
It was raining. Can you imagine the resignation savannah animals must feel on a wet March day in Hampshire ?
On the nature of freedom: In terms of space I felt some animals had a lot of space to roam (e.g. the capybaras) and some didn't have enough (e.g. the big cats). Some animals (the more passive ones) definitely seemed to have a better deal in the park than the wild - enough space, regular food, no enemies, and the keepers tried to provide a stimulating environment; for others it was more arguable - they would live longer but be less stimulated. But let's say they all had enough space and were allowed a closer simulation of the wild (but protected from being eaten). They're still not free of course, but will likely have a much easier life than in the wild. Is this better for them ? Or right ?
Each of the animals had a printed notice listing habitat, diet, etc. Guess what was given as diet for the anteater ? Yes - fish and chips.
Week 11: 9 Mar -15 Mar
Spinnaker Tower, Portsmouth: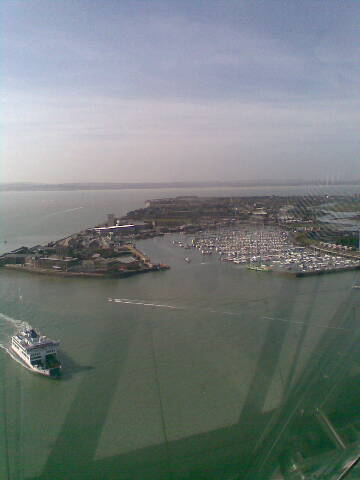 Thanks to Jane for this week's suggestion. On an impressively sunny morning (Sun 15) I drove to Gunwharf Quays. Gunwharf Quays is a shopping mall at Portsmouth Harbour. As well as shops there are loads of bars and restaurants quayside with views of the harbour, marina and Isle of Wight. A good place to chill with a drink; not as good as Plymouth quayside at the Barbican though - it's larger but also clearly modern and lacking Plymouth's sense of age. Although the historic dockyard (including the Mary Rose) was close, the target for today was the Spinnaker Tower. Well, it looks like the photo on the left, was funded as a Millenium Project by the National Lottery, opened in 2005, is 170m high, and an example view from the top is as per the photo on the right. What more can I say ? It's high with good views. This seems to be getting easier- maybe I will manage the whole year!
Week 12: 16 Mar -22 Mar
St Paul's Cathedral: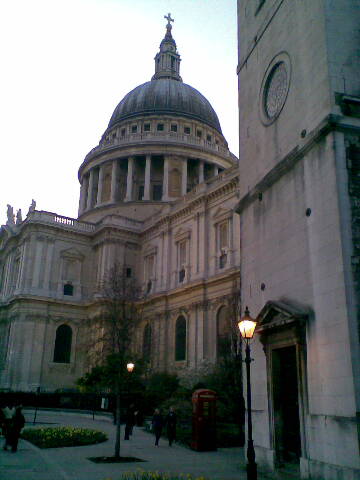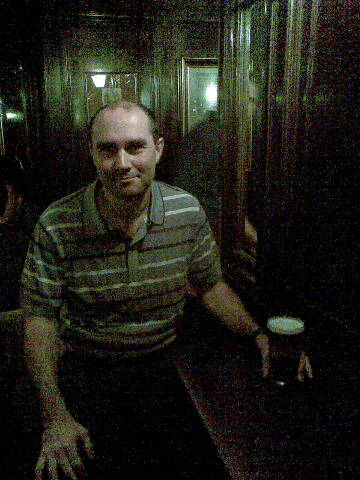 The real reason for Friday's visit to London was a crawl around the pubs in my 2001 book London by Pub. We (myself, Ian and anyone else available) are going through a chapter at a time every 2-3 months - today's was The City, and it was just myself and Ian. Of course, being in London, we had to add a cultural event (on top of the pubs themselves). After some debate, such as what's the point spending two hours in Tate Modern when we could be down the pub, we settled on St Pauls Cathedral. We spent about half an hour inside before it closed and also walked round the outside. In a way it was a bit of a token effort because it was too late to visit the Whispering Gallery, the Golden Gallery or the Crypt (including the tombs of Nelson and Wellington). Even so, I hadn't been before, and it is a mightily impressive building. It is dominated (inside and out) by the landmark dome, but the sheer size is also impressive. As with most churches the sense of peace and the memorials made for quiet contemplation; in addition, reinforcing a haunting aspect of the atmosphere, a choir was singing in Latin. The memorial that most struck me was that of a ship that went down with the loss of all lives - about 500 officers, men and boys were listed on the memorial. Some facts: there has been a church on this site since 604AD; several versions have been built since as each has been destroyed by fire or enemies; the previous version (completed in 1240) was also called St Paul's and was destroyed in the Great Fire of London in 1666; Charles II commissioned Christopher Wren to design the new cathedral and it was built between 1675 - 1708 and is acclaimed as an architectural masterpiece; Christopher Wren's tomb is in the Cathedral crypt. Along with the picture of the Cathedral is a spurious one of Ian in one of the later pubs of the evening, The Jamaica Winehouse I think.
Week 13: 23 Mar -29 Mar
Bat - The Symphony, at the Mayflower: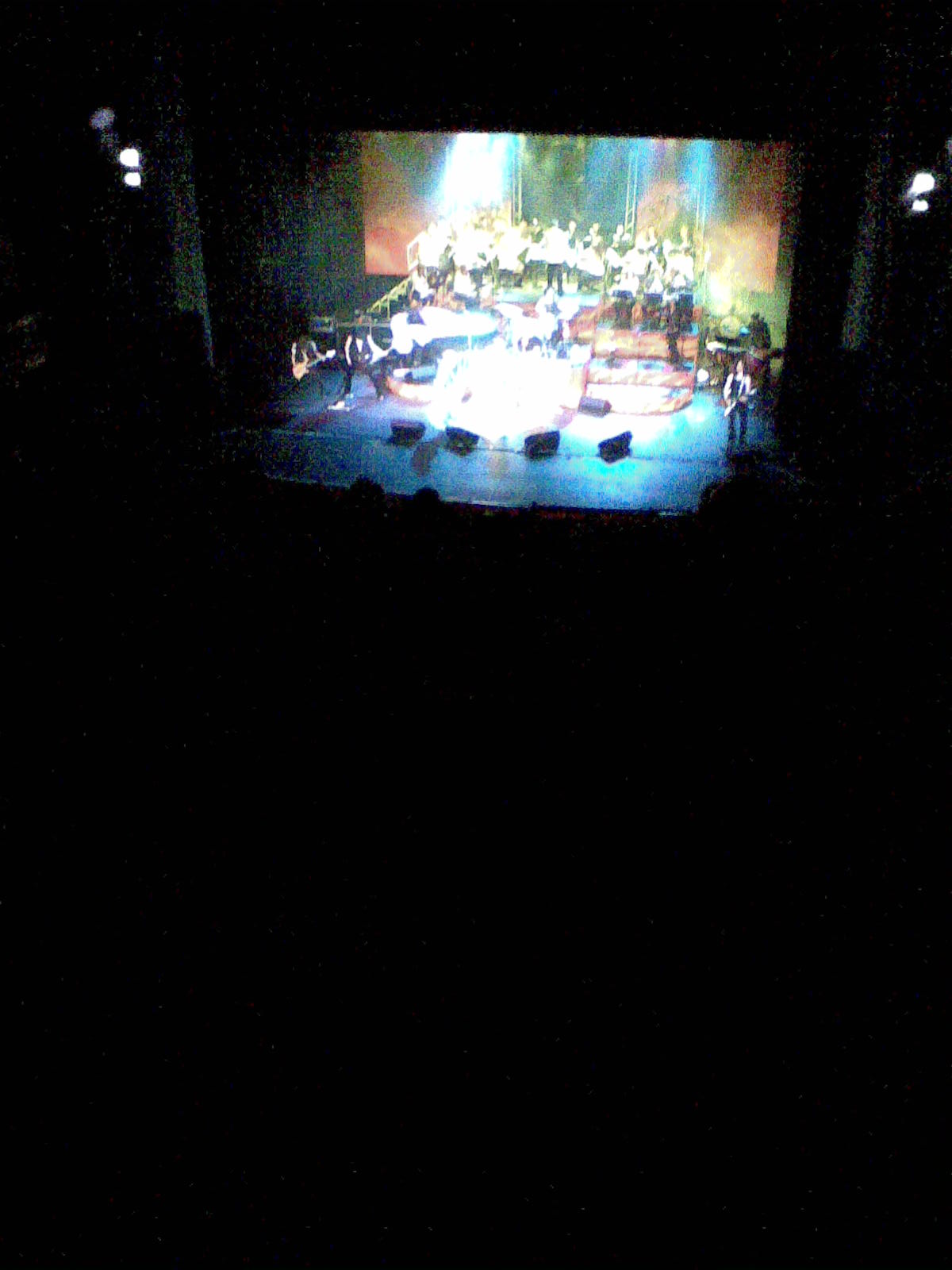 Back to the live concert format to watch Bat - The Symphony at The Mayflower, Southampton on Sunday evening. This was effectively a Meat Loaf tribute act (with an orchestra) and it was tremendous. It is put together by Steve Steinman who was the Meat Loaf persona, although he no longer feels the need to look like Meat Loaf and appears bald. The act consists of Steve, his band, two female backing singers / dancers, and the National Concert Orchestra of Great Britain - see the picture for another blurred concert photo. A former chef and restaurant owner, Steve Steinman appeared on Stars In Their Eyes as Meat Loaf in 1990 and extended this into a career. He has put together various shows including Vampires Rock, a rock musical featuring rock anthems from various artists (this is on again later this year). He was superb in Bat - good stage presence, good audience rapport and he sounded exactly like Meat Loaf. All the hits were played and given that these are great songs how could it go wrong ? And, even better ... there was Emily Clark. Emily was one of the backing singers, or so I thought at first; as well as this, she was the female lead vocalist. Several Meat Loaf songs are duets (Paradise by the Dashboard Light, Dead Ringer for Love) and she was brilliant on these, as well as on a solo of It's All Coming Back To Me Now. I'm sure she caught my eye at one point ... well, if not, at least there was a pint in The Encore next door to finish with.
Week 14: 30 Mar -5 Apr
Winchester College / Wolvesey Castle: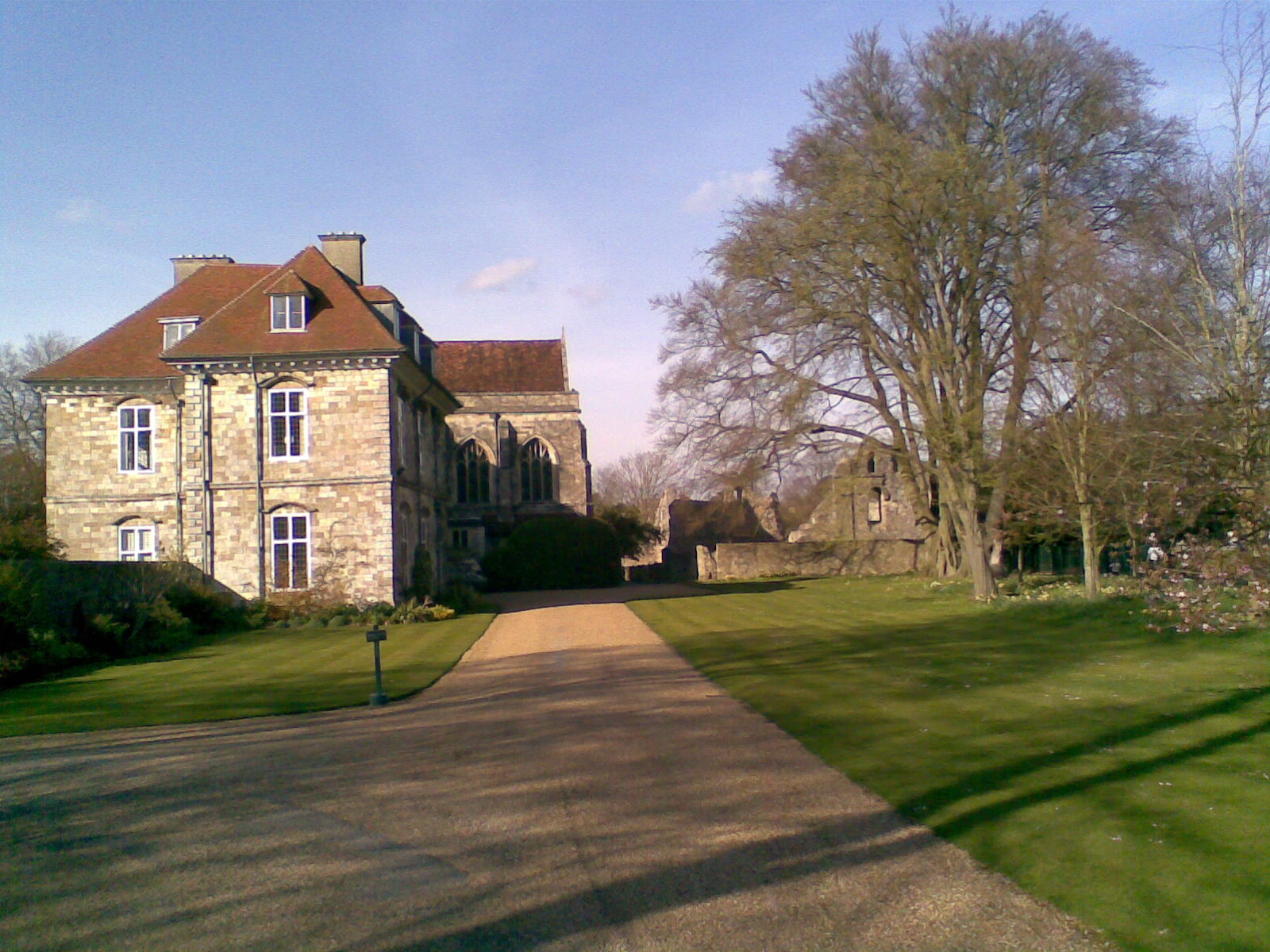 Another of those last minute Sunday afternoon efforts, but I made up for it by fitting in two cultural extravaganzas - a tour of Winchester College, and Wolvesey Castle. Winchester College (see their main chapel on the left) is a school very unlike the one you went to. It's an independent boys school with fees of about £25,000 a year and has been an active school in it's current site and buildings for over 600 years. The architecture is impressive and includes two chapels and cloisters (a covered walk around an open quadrangle, usually attached to a church or abbey), the grounds are extensive (Winchester College actually owns St Catherine's Hill) and the sports facilities superb. You can only go in if you go on an official tour. The woman who took my group was very knowledgable but gave more information than I could take in, especially about stained glass windows. I was happy to soak up the historical atmosphere, both inside the chapels and cloisters, and outside, looking at the buildings and grounds. One thing to note, to show an unexpected connection as a result of my cultural pursuit: there is a war memorial in the entry chamber to the main chapel, known as "Crimea" after the Crimean War of the early 1850s, and bearing the names of Wykehamists (old boys) who died at the siege of Sevastopol. Now I am currently reading "Flashman at the Charge" which involves a detailed account of Flashman's experience in the Crimea and Sevastopol, including the infamous Charge of the Light Brigade. Interesting, eh ? Afterwards, I took a quick tour round the ruins of Wolvesey Castle, next door. This was built around 1100 and was used as the residence of the Bishops of Winchester. The ruins can just be seen on the right of the photo on the right (honest). The main building is the residence of the current Bishop of Winchester - and what a great deal that is, living in a palace of prime Winchester real estate. Afterwards, I eschewed my normal pint for an ice cream.
Week 15: 6 Apr -12 Mar
London Bridges - Westminster Bridge to Tower bridge: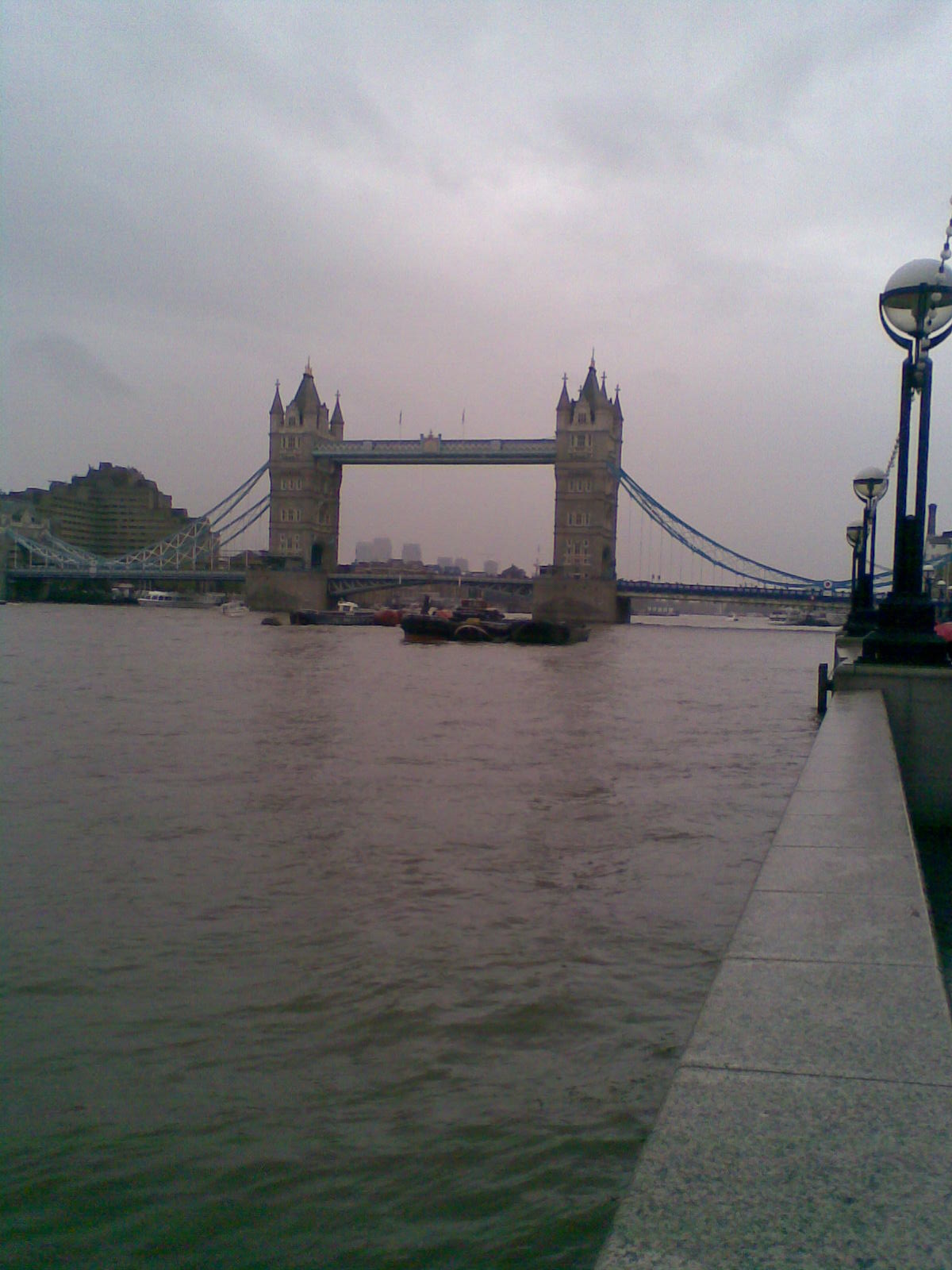 I was heading into London anyway on Easter Friday, so it should have been a simple matter to add a cultural experience from London's tapestry. I struggled, though, to find anything to enthuse me and I was going to reluctantly settle on exploring Tower Bridge, not feeling in the mood to traipse around galleries, museums, etc. Then I noticed all the bridges across the Thames, and a much better idea was born - to walk across all the bridges in a zig-zag manner. When I say all, I settled on the eight bridges from Westminster Bridge to Tower Bridge. The full list was: Westminster Bridge (starting from the South side), Hungerford Bridge (the pedestrian bridges either side of the railway bridge are called the Golden Jubilee Bridges), Waterloo Bridge, Blackfriars Bridge; Millenium Bridge, Southwark Bridge, London Bridge and Tower Bridge. [Ok, I could have started at Battersea Bridge and taken in Albert Bridge, Chelsea Bridge, Vauxhall Bridge and Lambeth Bridge before getting to Westminster Bridge - maybe another time, it took me two hours as it was] The walk was terrific. You get a great feeling of 'London-ness' with landmarks such as Westminster, St Paul's and Tower Bridge (pictured); plus there's the river itself with its traffic, floating pubs and bustling walkways (and the bridges). This entry is about the walk and the London backdrop it provides, so I'll leave it there. If you do want to know about the history of some of these bridges, for example that there has been a bridge near the London Bridge site for 2000 years or why Tower Bridge was built (completed in 1894) and how it works ... I'll let you look it up. Just to help, though, this site gives a summary of all these bridges.
Week 16: 13 Apr -19 Apr
Liz Arnold Exhibition at Camden Arts Centre: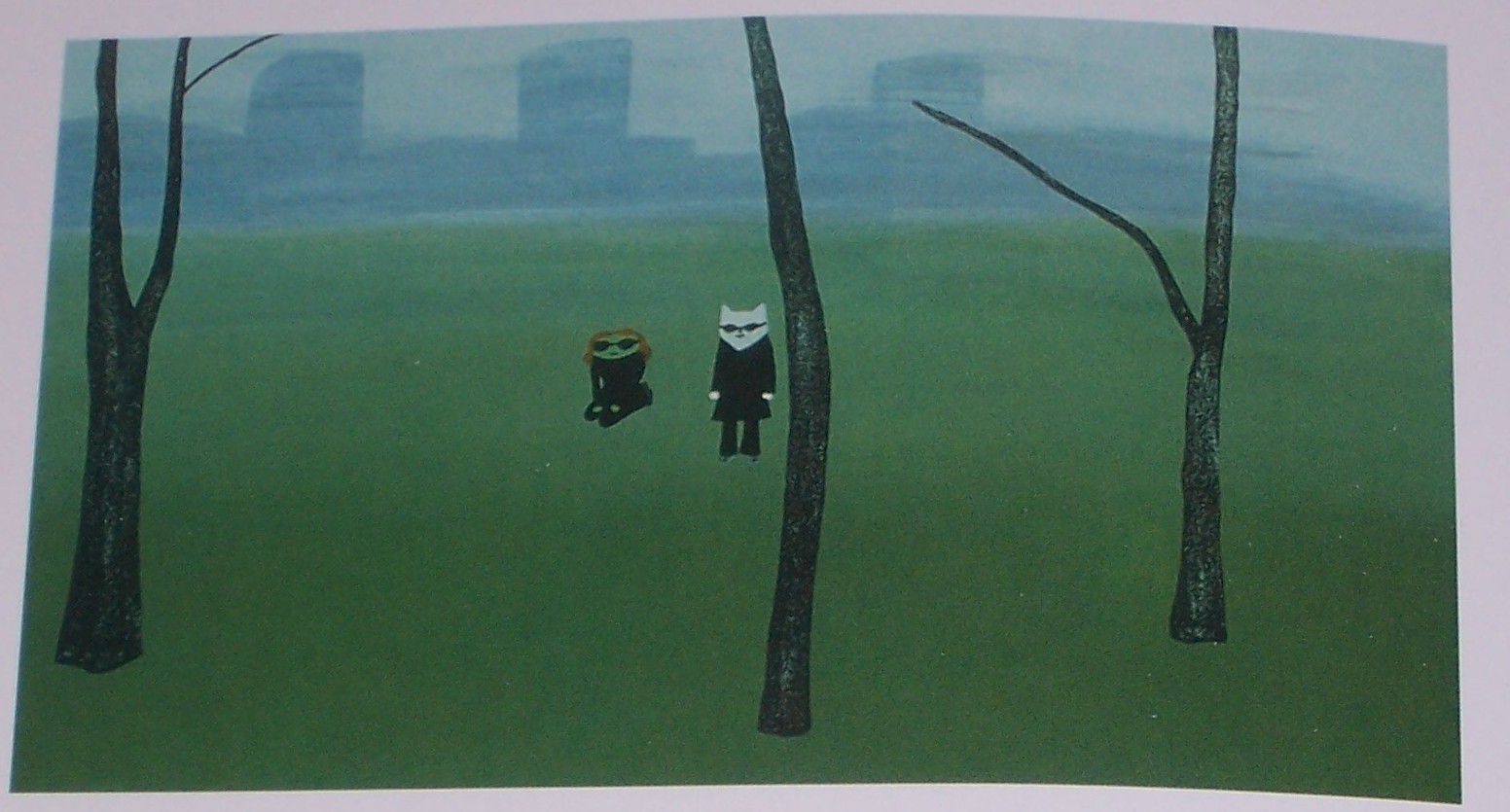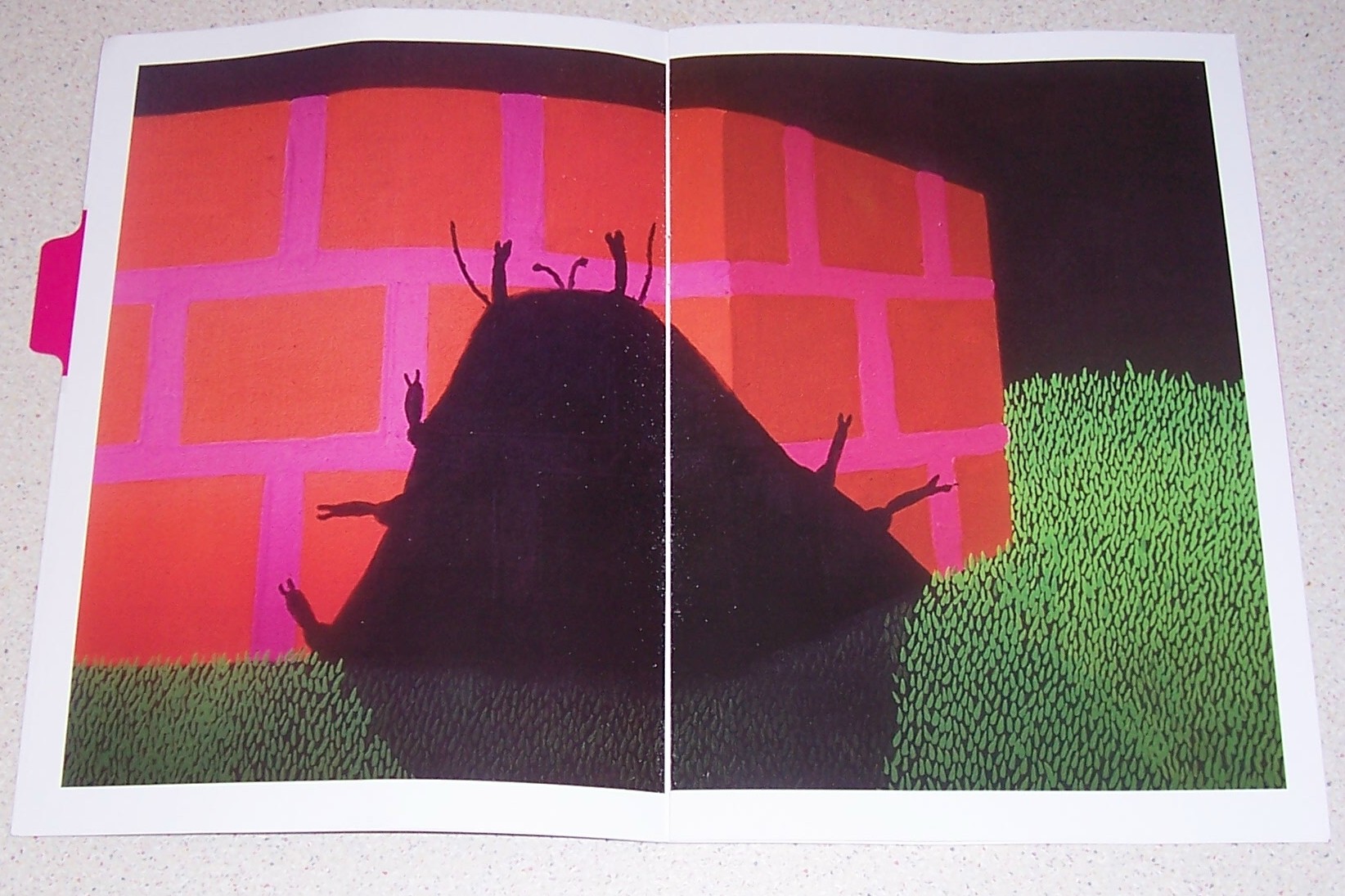 Saturday saw me head into London solely for this exhibition. This marks a cultural renaissance for me - think about it, going into London just to visit an art gallery. I still mostly like my landscapes, seascapes and 'real' scenes for art, but I had been fascinated with the pictures from this in Time Out. Before we get on to Liz Arnold, a couple of quick points. Firstly, Camden Arts Centre itself - this is a really nice spacious venue, with a bookshop, cafe (including outside patio and garden), three galleries upstairs and pleasant staff; they also put on events like film screenings and talks. Secondly, there was one other exhibition at the same time as the Liz Arnold display: this was from the Romanian artist Mircea Cantor and took up two of the galleries - one was an empty room with fingerprints round the edge and a flying carpet suspended from the ceiling, and the other was a room with two (real) peacocks and some bushes inside interlocking gold cages. There was a lot of description about how this all meant something, but ...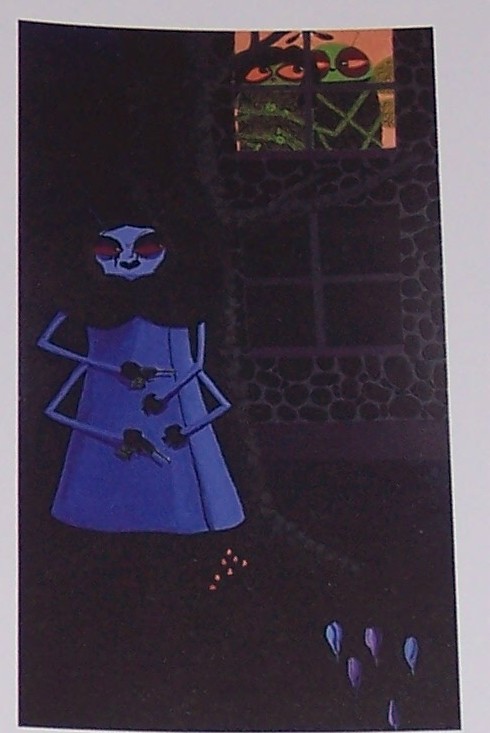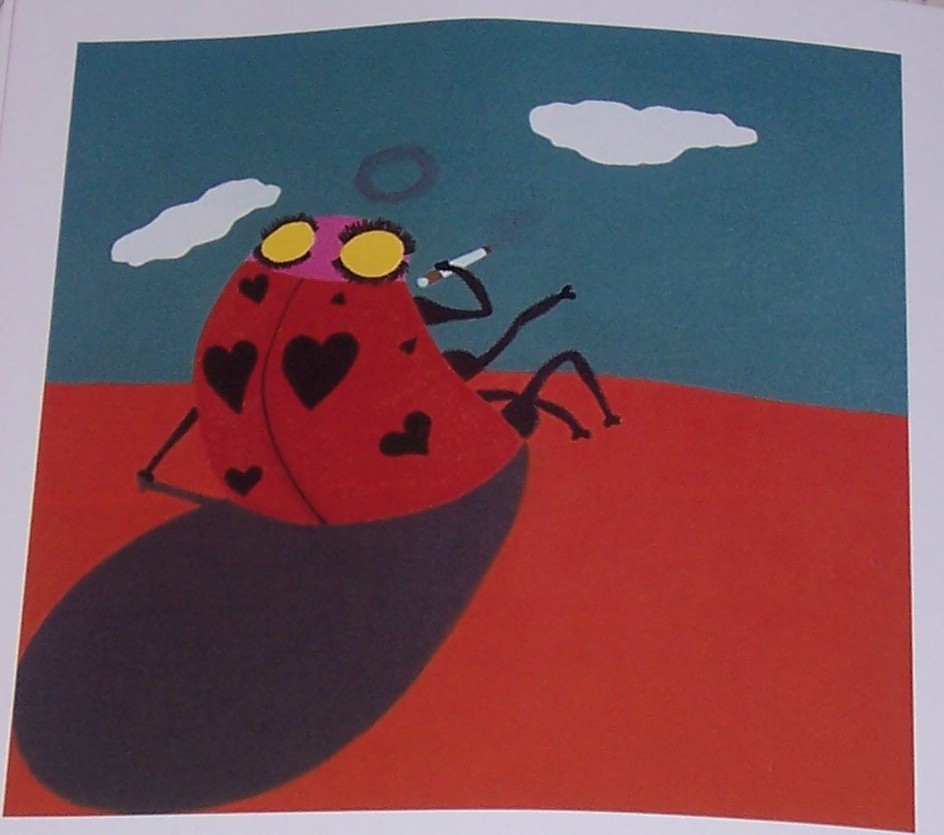 Anyway, Liz Arnold. She tended to paint a cast of insects, cats and other animals in slightly surreal or sci-fi settings; she referred to them as 'little worlds', alternative fantasy worlds to the real world - but close enough to refer to the real world and portray human emotions. I read that she was interested in the 'freeze-frame' quality of narrative painting - that is, the circumstances prior and subsequent to the image being unknown or withheld. She was inspired by sci-fi and horror films, cartoons, video games and fashion magazines. Her later pictures replaced the cast of animals with a pack of haunting women, with blank faces, engaged in inscrutable activities like having picnics and conducting scientific experiments. The pictures clockwise from top left are called Vicky Park, The Thing from Another Planet, Mythic Heaven and Petal. I haven't yet mentioned that her paintings are brilliant - there is a fantastic sense of humour here, that, allied with the freeze-frame 'what is going on' and the fantasy settings make these unique. Sadly she died of cancer in 2001, at the age of 36. For more information on Liz Arnold try here (a summary), here (an obituary), or here (an interview).
Week 17: 20 Apr -26 Apr
Winchester Cathedral - Tower: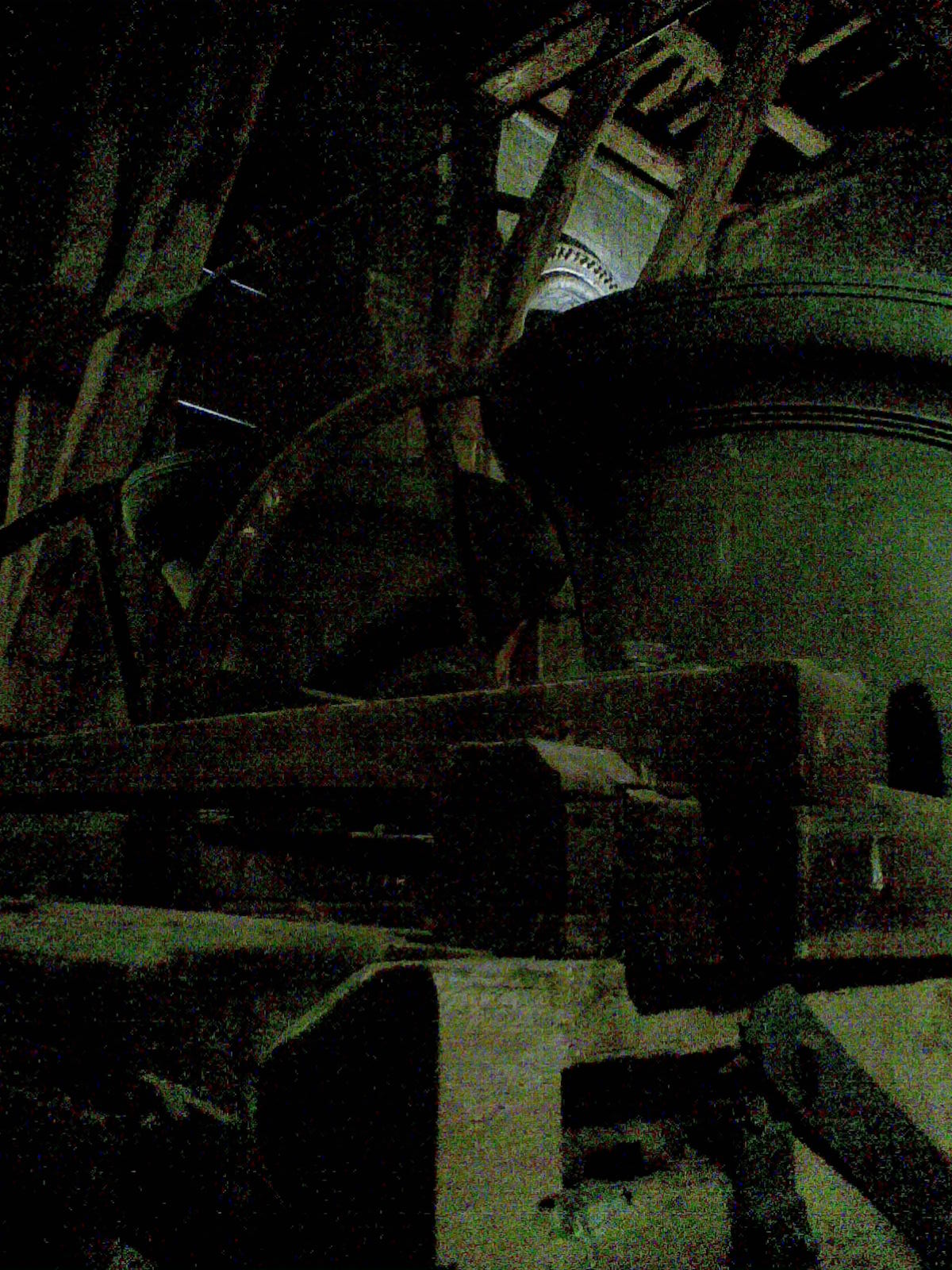 You need to take a one and a half hour tour to climb the tower, and I joined one on the Sat. Along the way you gather some history, see the bell chamber and the ringing chamber (where they ring the bells), walk the interior of the nave roof and climb a very narrow spiral staircase. For more information see the Winchester Cathedral website - in particular click on the History and Heritage link for information on the building and the bells; also see the Wikipedia site for a quick summary. A few quick facts: today's cathedral was started in 1079 although a church was on the site from the seventh century; the nave (the longest in Europe) was remodelled around 1400; the bells (see picture) are hugely impressive - there are 14 of them, the heaviset 1.8 tons, and the oldest dating from the 1600s (albeit recast in 1937); the clock is frequently out by minutes although it is always reset for New Year's Eve. The ringing chamber contains records of peals on the walls (there is about one every ten years) - these are complex sequences of bell rings taking something like 12 hours to complete. A highly recommended tour; most impressive of all, and the main point, are the views from the top of the Tower - see here for my photos.
Week 18: 27 Apr -3 May
Kenmare Stone Circle / Irish trad band: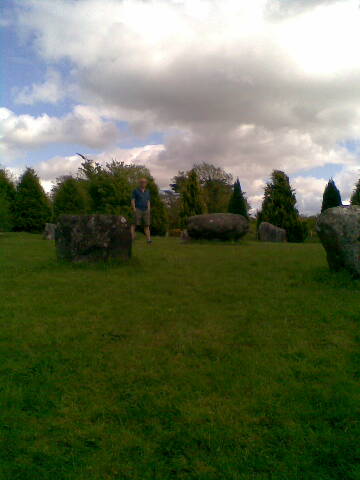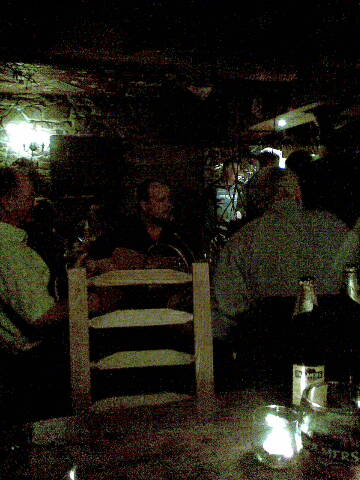 It was looking desperate for culture by Sunday afternoon - I was in Ireland with Steve and Adam and the mountains were great, but time was running out. The only item in my Ireland Lonely Planet book for Kenmare (where we were) was one sentence, "An ancient stone circle is signposted from the park end of Main Street." We only had about five minutes spare, but Adam and I had a quick look (photo on left). You could say this was half-hearted, although I prefer heroic. Amazingly, we managed to fit in further culture that night - an Irish band was playing at Ned Natterjacks in Castlegregory where we went drinking later with Mike. So, some quick stone circle facts: the Kenmare stone circle is the biggest of about 100 of its type, found only in SW Ireland; the 'type' is typified by stones in a ring around a central burial monument (known as a Boulder Dolmen); these were built in the Bronze Age (2200 - 500 BC); the Kenmare one has 15 stones in an egg shape around the central monument - which is a seven ton capstone over some smaller stones. See here for a link to the Kenmare Stone Circle and here for information on stone circles in general. And the Irish band, captured for posterity on the right ? They played what you expected - The Irish Rover, Dirty Old Town, Whiskey in the Jar, etc.; they had no name they admitted to; they refused to play Captain Pugwash and The Monkees (and showed good humour, or I wouldn't have asked); all in all, terrific.
Week 19: 4 May -10 May
Medieval Merchant's House, Southampton: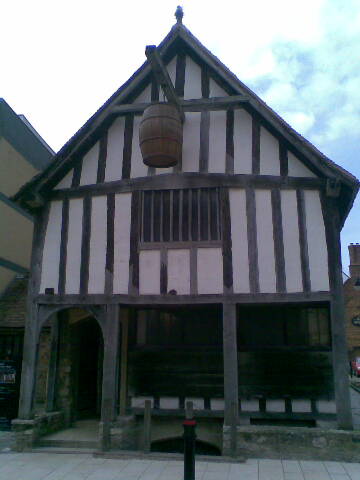 This was another of those Sunday-afternoon-desperately-search-the-web-for-local-culture, and I came up with The Medieval Merchant's House at 58 French Street in Southampton, "one of the oldest surviving medieval merchants' houses in England." The link just given is very detailed and provides all the historical information you could ever want to know. As is usual, here is my heavily abbreviated summary: it's old. Ok, I'll give you a bit more: the house dates from the 12th century - it has been restored to recreate the original as best as possible, and includes original walls and timber; it was used as both a residence and a place of business; it was one of about 60 similar buildings in Southampton; French Street served as Southampton's High Street in the 12 and 13th centuries; it was a pub in the mid 19th century. Overall impression was that it did give you a sense of history and age and was well worth half an hour wandering around. I was the only person there and the woman curator was very talkative - she even let me in the cellar below, which is not the norm, apparently. Even better, she let me out.
Week 20: 11 May -17 May
Winchester City Mill: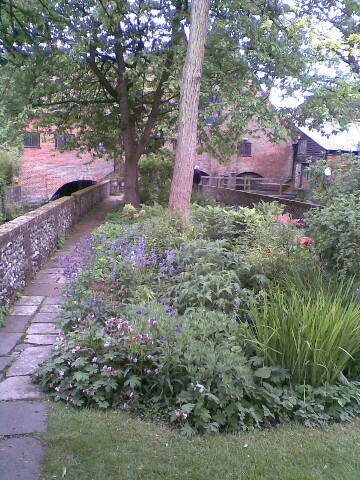 This was an easy one, since it's right in the middle of Winchester, and I chalked it off on the Saturday. However, my reserve list of 'easy' culture (which I can do quickly and unplanned) is running out - I only have the Winchester City Museum left - and I have 32 weeks to go. Anyway, Winchester City Mill: the link is quite good, so I'll let you read it. The basics, though: there has been a mill here for over 1000 years (and was recorded in Domesday records in 1086); it fell into disuse and was rebuilt in 1743 - to create the building seen today; milling ceased in the early 1900s; it was used as a laundry in the 1st World War and sold to the National Trust in 1928; milling restarted in 2004 - demos are provided and the wholemeal flour created is sold in the shop. It was impressive to see a working watermill, and if I had been more awake, I would have paid more attention to how it worked; there were lots of explanations and interactive demos that I managed to neglect. Overall, there was a great impression of history, the riverside garden was very scenic (see picture), and there were videos of otters swimming under the mill caught by remote capture cameras.
Week 21: 18 May -24 May
Comedy of Errors at The Chesil Theatre, Winchester: Well, week 21, and my first play - the Saturday matinee performance at The Chesil Theatre. Not too much to say here. The Chesil Theatre is a great, intimate venue, only seating 75. It puts on about 8 plays a year, running for about a week each; it has its own company of actors, and also recruits for plays by open audition. I was a bit worried about the play at first. It was billed as Shakespeare's shortest, lightest comedy, but the first five minutes were full of ye olde Shakespearian speeches, difficult to understand (O' Level English is a long way away). However, it quickly became easy to work out what was going on, and it was very funny. On top of the great venue and play, there was a bar and a decent interval - I shall be back for the next play here.
Week 22: 25 May -31 May
City Museum, Winchester: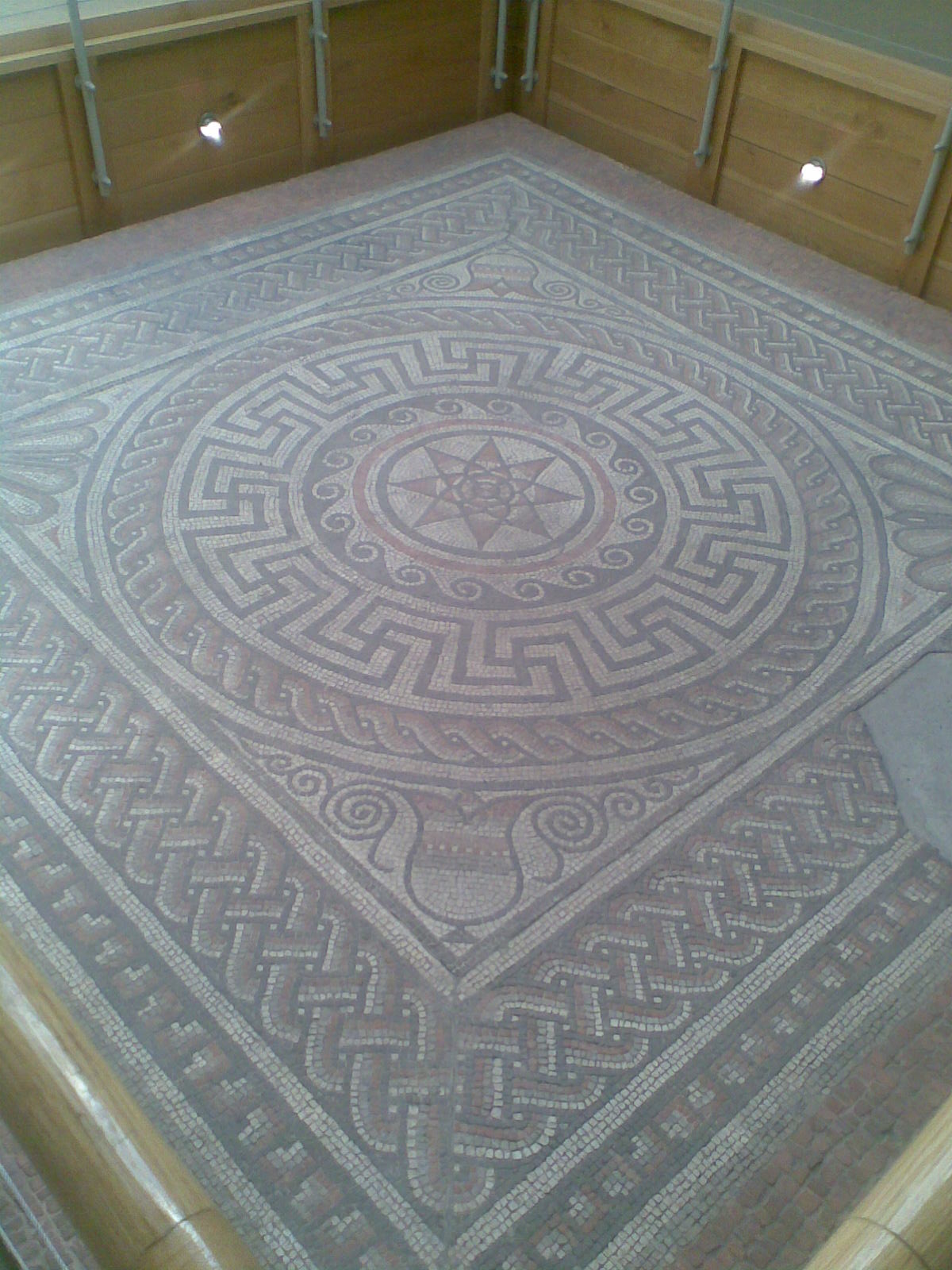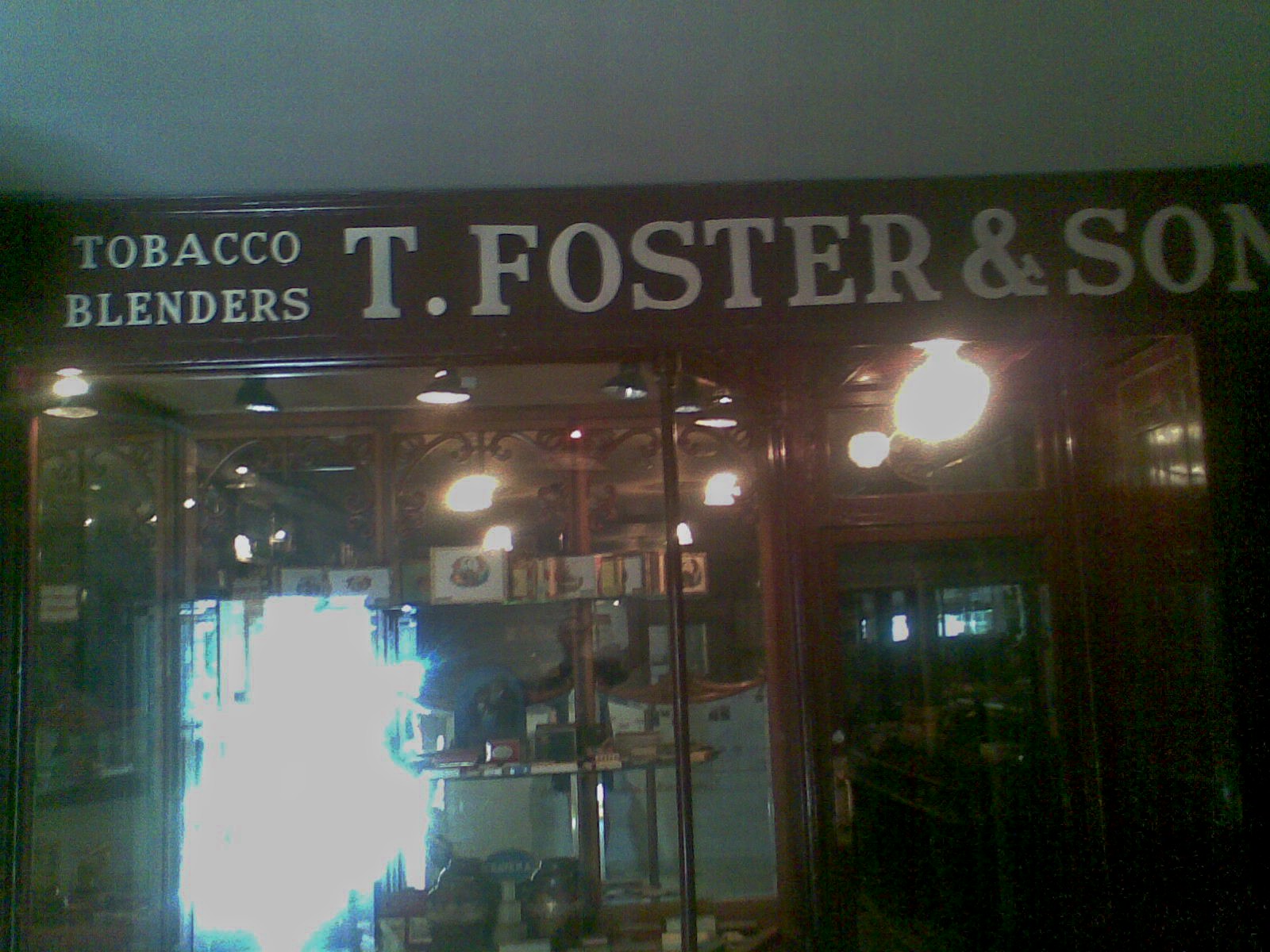 The City Museum is quite a landmark in The Square, near the Cathedral - a three storey tower-like structure. The museum splits into different themes for each floor: replica 19th century Winchester shops on the ground floor, the Anglo Saxon middle ages on the first floor and Roman Winchester on the second floor. See the Roman mosaic on the left and a 19th century tobaconnist's on the right. It was interesting (more than I thought) and there was a lot of historical information - but I draw the line at trying to summarise Winchester history in this entry. Call it laziness !
Week 23: 1 Jun -7 Jun
Frank Bowling Exhibition at The Gallery, Winchester Discovery Centre: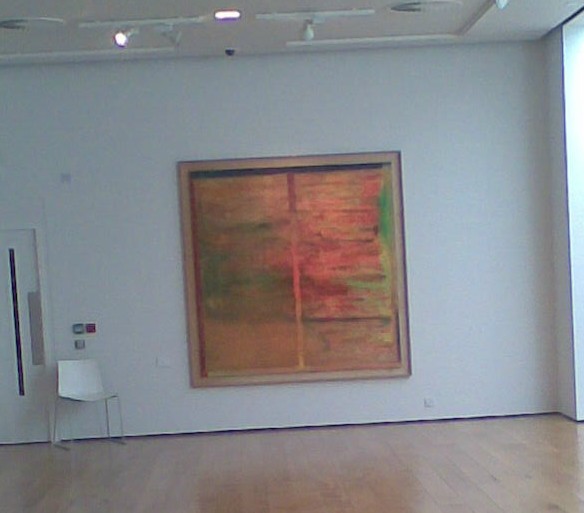 Back to the Winchester Discovery Centre (see Week 4) to The Gallery to see the Frank Bowling exhibition. The Gallery is free to enter and is upstairs at the Discovery Centre - reading from the link on the Discovery website, it is "designed to the highest security standards to allow us to display material from the most important galleries, museums and private collections in the country". Worth checking out each time the exhibition updates if you're culturally aware like me. Anyway, Frank Bowling: he's an abstract painter born in Guyana in 1936 and moved to London in 1950; he currently moves between studios in London and New York. He's been elected to England's Royal Academy of Art and has been awarded an OBE - basically he's respected. The paintings in the exhibition are a selection from the '80s to the present day. So what are they like ? Well, if you read the leaflet from the Exhibition you get statements like 'invoke ambiguous interpretations', 'Frank is happy for them to be hung either way up to provoke alternative interpretations' - and yes, they are a bit of a mess. Which probably means I don't understand this kind of painting (or they really are a mess). A couple of points about the paintings: first, Frank says they are rule-based, meaning he keeps to (loosely-defined) strategies about frames, geometry and grid structures; and second, he makes use of vivid colours which does give a striking effect. However, hang on a second, before I dismiss this: I really liked exactly one of the paintings - "Shrill", shown to the left. I only really appreciated this when I looked at it from a distance (the whole of the gallery length in fact); and the deal was that I could see all kinds of things in this - forests and sunsets and alien landscapes. Again, reading the leaflet, you see 'product of experiment', 'speculative play ... to produce multiple interpretations'. So maybe this is really what he is trying to do, and I have (to an extent) got it.
Week 24: 8 Jun -14 Jun
Helen Tabor Exhibition at Rowley Contemporary Art, Winchester: Well, I've already been to Rowley Contemporary Art, on Great Minster Street (see Week 1). My intention for this visit (on the Sat) was to see the Helen Tabor exhibition. The preview I'd seen showed oil paintings of Scottish landscapes and seascapes which is what I got. Normally I would like this, but, for me, the oil paintings were just too distorted away from the real thing. They were still recognisable, and I didn't actually dislike them ... but I wouldn't put them on my wall. Such is taste ! However, I did see a Sue Campion painting in the gallery that was superb. And apparently there is a Sue Campion exhibition in October where you can meet the artist. See how well-tuned my cultural antennae are now, so that I can effortlessly move from one avenue to another !
Week 25: 15 Jun -21 Jun
Peter Godwin Exhibition at Nevill Keating McIllroy: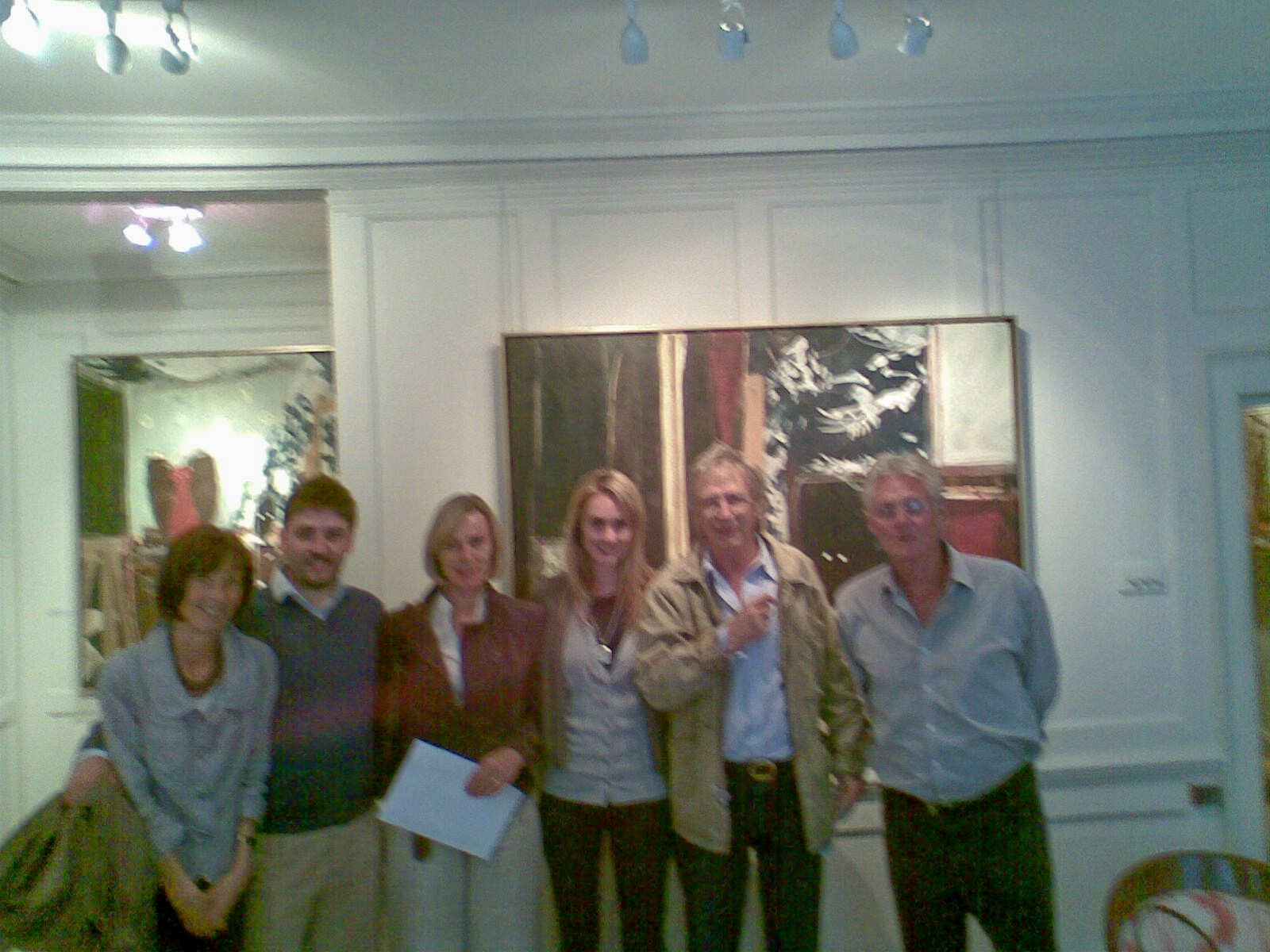 Well, Wed 17 Jun was a great day. I met my long-lost cousin Lauren in London; and also Campbell, Becky, Jon, De and Jim. Amongst lunch, chat and tea I also became culturally enhanced by seeing the Peter Godwin exhibition at the Nevil Keating McIllroy art dealership in Pickering Place (nearest tube, Green Park). Peter Godwin is an Australian in his fifties and is a regular exhibitor at the Definace Gallery in Sydney, which is run by Campbell and Lauren - so I had all the artistic expertise on hand to help me. The pictures were abstract and different from what I am used to - it was clear they were all by the same artist as the style was similar and (once you looked) the artist had 'tics' or trademarks that he inserted into most the pictures. What I didn't get, which is important, is an understanding of the artist's evolution or learning, and you really need to follow the artist or know more about their art to get this. I will back away from an expert appreciation of the work here - it was great to see something different. I especially liked the painting of the cat you can just see on the left hand side of the picture (Studio Corner, Mendi Shield (Beth's Shield)). A terrific day !
Week 26: 22 Jun -28 Jun
King Alfred's Statue on The Broadway, Winchester: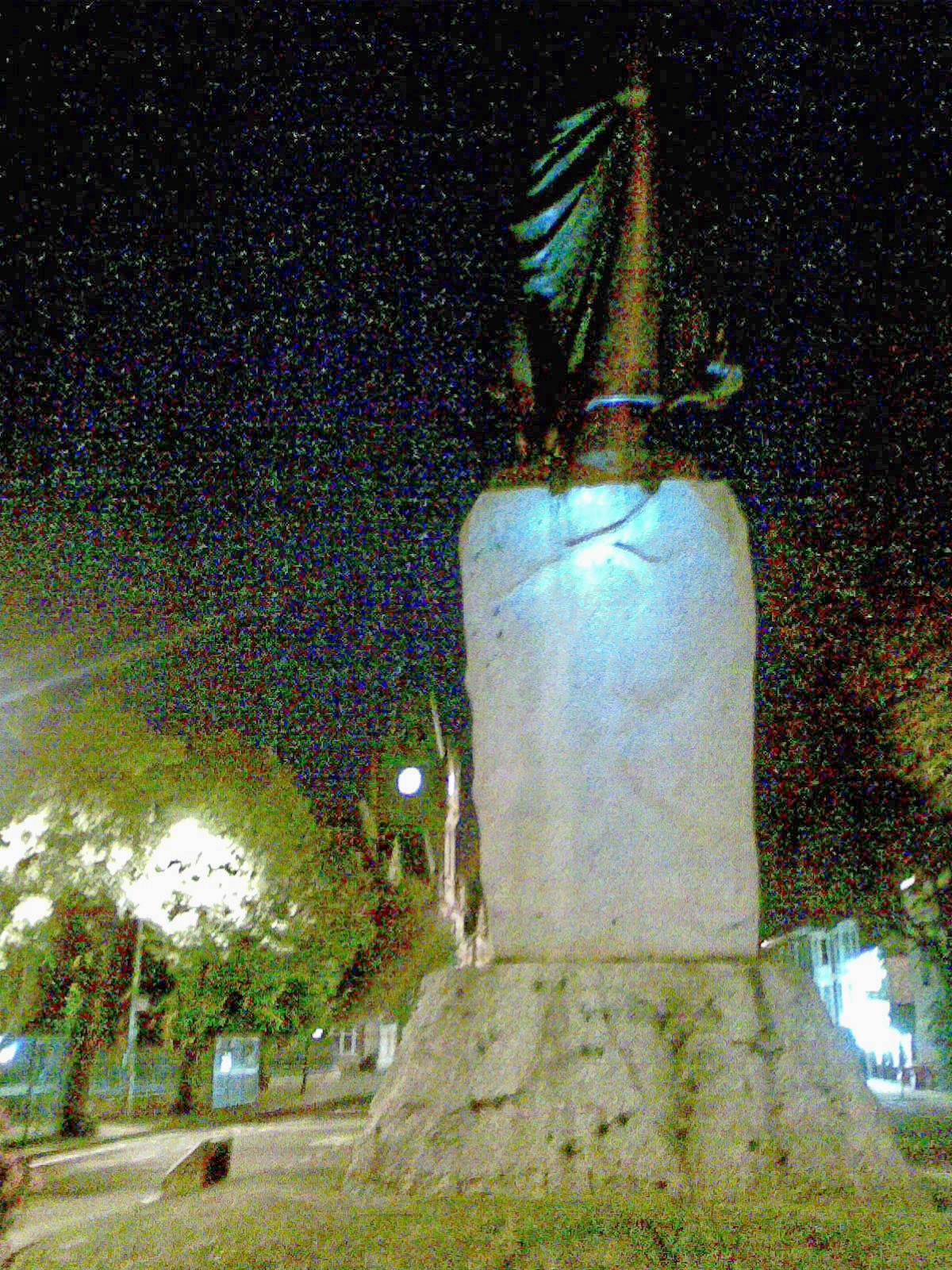 Ok, if anything counts as desperate this does. It was Sunday (as ever), I'd been at a tennis tournament all day, I was packing for my Kilimanjaro departure on the Monday, it was 8:00 in the evening, and it was raining. Out of a distinct lack of choice, I went for a closer look at King Alfred's Statue in town. Hung around for ten minutes and came back. Not impressed ? Hang on a bit, though: it is actually an impressive statue and does dominate that end of town. It was unveiled on Friday 20 Sept 1901, is made of bronze, is 15 feet high (40 feet including the granite base), and weighs five tons. It was commissioned by Winchester's mayor, Alfred Bowker, to mark the millenium of Alfred's death - Alfred ruled Wessex from Winchester and died in 899 - and was created by Hamo Thornycroft. The unveiling was a massive occasion in Winchester, with dignitaries from around the world invited and it co-incided with a public holiday. See also here for a description of King Alfred and details of the commissioning and unveiling of the statue. Note: Alfred was born in Wantage and there is also a life-size statue of him in Wantage, erected in 1877. Well, I learnt something, I appreciate the statue more now, and it counts as one of my weeks ! Starting to struggle a bit though, and six months to go.
Week 27: 29 Jun -5 Jul
Arusha market and Birds of East Africa: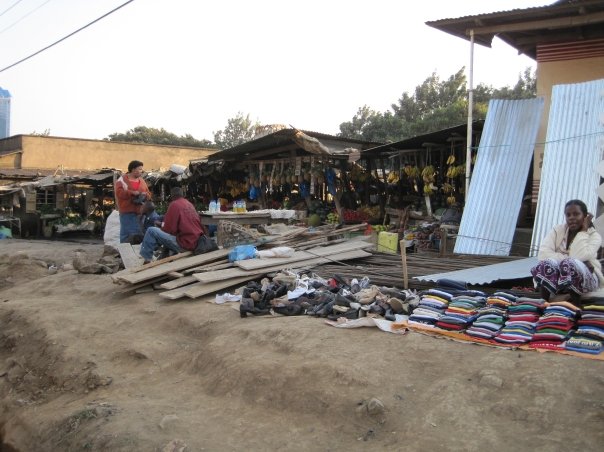 This week was spent in Tanzania and was about a mountain, not culture. Of course, in another country you absorb and learn about an entirely different culture, but that's not what I mean by culture in this quest - it's about concrete examples of the arts, heritage, etc. So I struggled a bit, but eventually decided that one or other of the following counts as culture:
Arusha market: We stayed in Arusha at the beginning of the trip, and on the Tuesday we walked around the city. There is a modernised centre but a lot of Arusha is shanty town-like communities with localised businesses and markets. The market in the picture is an example of this.
Birds of East Africa: Rachel's suggestion, and justified (possibly) because I absorbed a book on the subject during a heavily extended and monotonous journey home. Anyway, to prove my knowledge I can tell you that a particularly famous bird in the Kilimanjaro area is the Scarlet-tufted Malachite Sunbird; and that a Yellow-billed Hornbill is similar to the Red-billed Hornbill except it has a yellow bill. What more do you need to know ?
Week 28: 6 Jul -12 Jul
St Andrew's Church, Chilcomb: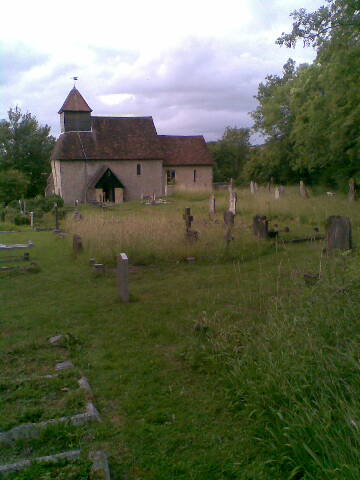 Just turning dusk on Sunday and I visited the 12th century St Andrew's Church in Chilcomb, a couple of miles from Winchester. The church is at the end of a lane and I had both the churchyard and the church interior to myself, lending a peaceful and slightly spooky feel. The setting and atmosphere was terrific with superb views of the rolling Hampshire country, and there was an overall feeling of age. The graveyard was everything you want it to be with ancient overgrown corners and well tended modern areas. Various parts of the church date from various ages - 13th century tiles, a 14th century bell, coffin and oak door, 18th century memorials .... Apparently, an even earlier church was originally on the site, built in the 7th century.
Week 29: 13 Jul -19 Jul
Westgate Museum, Winchester: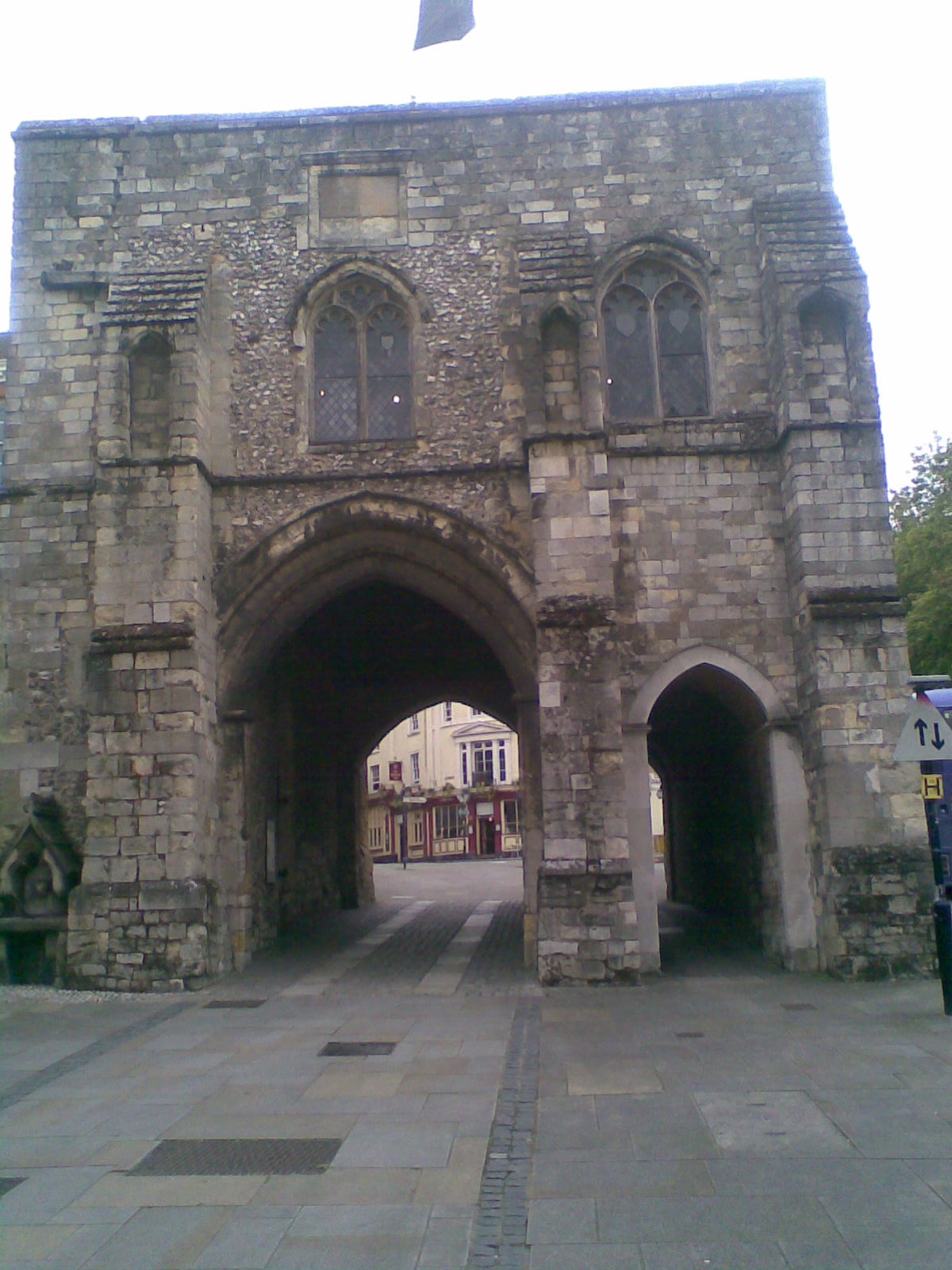 Another Sunday afternoon and another scrabble to find something in Winchester. I came up with the Westgate Museum. Showing my lack of awareness, I knew this as an ancient stone gate into the city and didn't realise it doubled as a museum ... and it was really good. Not the museum so much; there was one room with a hodgepotch of items - a set of physical weights and measures used as the English standard for a while (including pint, quart and wine measuring tankards) was the most interesting thing. What was good was: the actual museum room itself with (roughly) 12th century stone walls and windows, oak floors and a good view of the High Street; the roof, giving even better views of Winchester; the superb exterior, serving as a landmark for entry to the High Street; and the history of the Westgate - it initially acted for defence as part of the city walls, but also served as a debtors prison (there is 16th century graffiti on the walls from the prisoners), a pub (The Plume and Feathers - demolished 1940) and has been a museum since 1898. I couldn't avoid retiring to The Westgate Inn for a pint afterwards.
Week 30: 20 Jul -26 Jul
Beer Festival and The Wurzels at Plymouth Pavilions: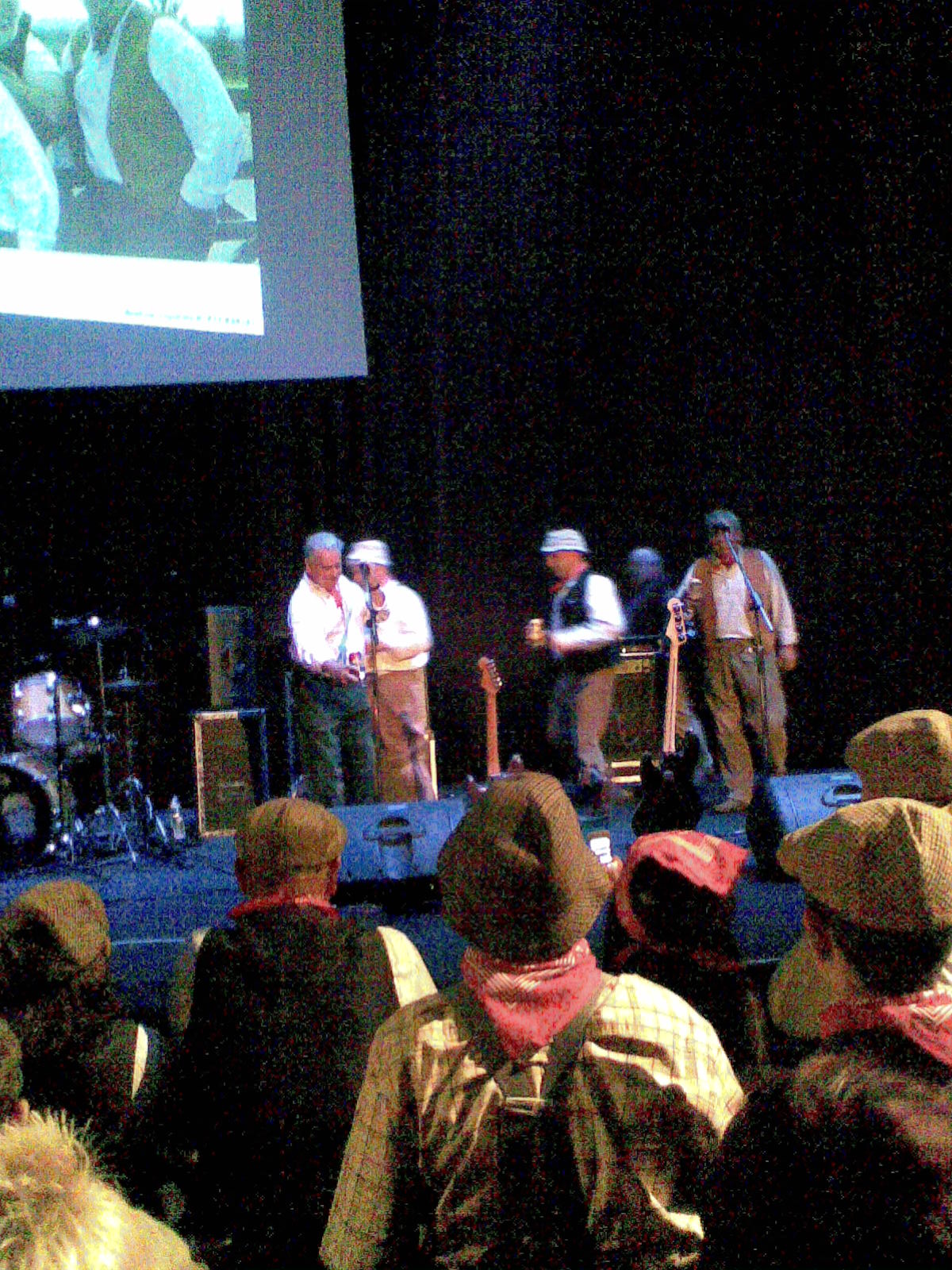 Well, this is what it's all about, a truly iconic experience. Not only Plymouth Beer Festival, not only (and this would justify the whole year) The Wurzels, but also a superb singer in a late night Blues bar. But I'm ahead of myself. Duncan and I found ourselves heading to Plymouth Pavilions on the Sat for the beer festival. The venue was good - see Week 7 - and the beer festival itself was fine (no foreign lagers, so I was mostly on the cider). What elevated it was its combination with the on-stage gig which was advertised to start at nine. We arrived about six, and, on a strategy of alternating a pasty with every two drinks, stayed relatively sober until the main event. So here we are: it's 9:10, the crowd - many in trademark neckerchiefs and corduroy trousers - are chanting for the Wurzels, and suddenly the lights dim, the noise briefly abates and the Wurzels stroll on and break into 'Where be that blackbird to'; the crowd goes wild, including several stag parties - one group doffing Tommy Cooper hats to the music. Pure class. They only played for 80 mintues, and the acoustics weren't great ... but it was The Wurzels. They included most the classics - I am a Cider Drinker, Farmer Bill's Cowman, Combine Harvester, and finishing up with Drink up Thy Zyder. When a band ask "Is there anyone here from Shepton Mallet ?", you know you're in good hands. Terrific !
A quick guide to The Wurzels: The Wurzels were founded by Adge Cutler and have been going continuosuly since 1966; Adge died in a car crash in 1974 and so missed the glory years of the late seventies. Band members have changed but massive continuity is provided by Tommy Banner (accordion, vocals, 1967 - present), Pete Budd (banjo, lead vocalist, 1972 - present) and John Morgan (drums, 1981 - present); the current fourth member is Sedge Moore (from 2007) and the most significant past member (other than Adge) is Tony Baylis (tuba and bass, 1969 - 1985) - for their most successful period, 1974-1981, it was the threesome of Tommy, Pete and Tony. In the early years, after their breakthrough single Drink Up Thy Zyder, they made TV appearances, released albums and became a local (West Country) hit and a national touring band. They hit gold in 1976 with the number one single Combine Harvester, followed by a number three I am a Cider Drinker. That was mostly it chartwise, but on the back of this the band had a few high profile years including two sellout national tours and also world tours (Canada, the Middle East !); followed by a quieter period of local gigs. Around 2000, helped by a compilation album release, their popularity rose; they played Glastonbury in 2000 and continue to play many gigs. Lyric-wise, the songs (either originals or parodies of existing songs) are all about Somerset, the farmyard and scrumpy - some quick examples: "I drove my tractor through your haystack last night (ooh aah ooh aah) I threw me pitchfork at your dog to keep quiet" (a national no. 1); "down the pub, quick, they're giving green stamps with scrumpy"; "get some pints down 'ee, young 'un"; "I'll never get a scrumpy here ... you don't get surprises living in Devizes" (about a trip to Paris); etc. For more information see the official Wurzels site, and also the superbly detailed Wurzelmania site.
And then ... we went to the Barbican area afterwards and ended up (amongst other places) in the Blues Bar and Grill, where there was a terrific singer called Jill Cole. I can't entirely remember what she sang, but it was covers of good songs - she had a a great voice and a friendly presence. Google me, she said, when I said she was superb - and here she is.
Week 31: 27 Jul -2 Aug
Escapement Exhibition by Raqs Media Collective at Frith Street Gallery, Golden Square, London: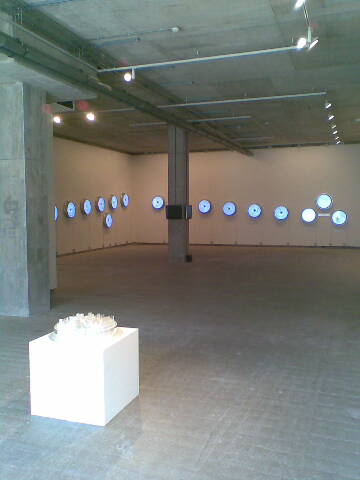 Friday afternoon and myself and Ian were set for our second London pub crawl of the year, Soho this time (see also Week 12). Prior to the pubs, we visited Frith Street Gallery for the Escapement Exhibition by Raqs Media Collective (three Delhi-based artists). The gallery is in Golden Square (near Piccadilly Circus), which is a great little square - a tree-surrounded oasis of calm just off the busy central London streets. See here for details and reviews of the Exhibition. To quote: "Escapement (2009), ..., comprised 27 clocks, each allocated to a city and the hands set to their respective time zones. However the clock hands marked emotions rather than time - epiphany, anxiety, duty, guilt, indifference, awe, fatigue, nostalgia, ecstasy, fear, panic, remorse - as if each city was on a nietzschean treadmill, doomed to an eternal return of extreme feeling" and "In Mexico City itís a quarter past fatigue, in Buenos Aires itís just after ecstasy and in Shangri La itís half past awe. Thereís also panic in Beijing and Jakarta, but the beauty of these altered timepieces is that they will read differently every time you look. This is an international community of adjectives we all share ...". Some of the reviews are quite pretentious. Overall it's ok - now, on with the pubs.
Week 32: 3 Aug -9 Aug
Winchester_culture_times_4_in_20_minutes: You may think that spending five minutes on each of four 'cultural' items I pass in Winchester High Street every day is a cheat. However ... anyway, back to the beginning. My Mum stayed over the weekend and I thought that would make it easy, we'd see some culture anyway - trouble is, my cultural tour is so successful (really) I ended up taking her to places I'd already seen. And hence I ended up with a spare half hour at 7 on Sunday evening (yes, desperate again) cycling to the High Street to do the following: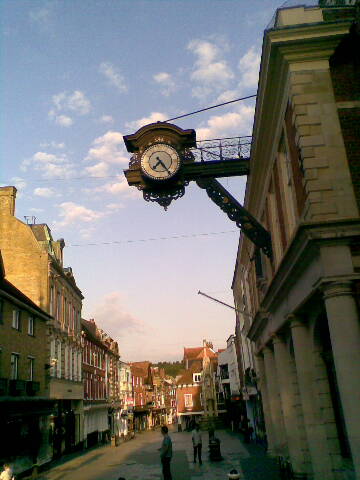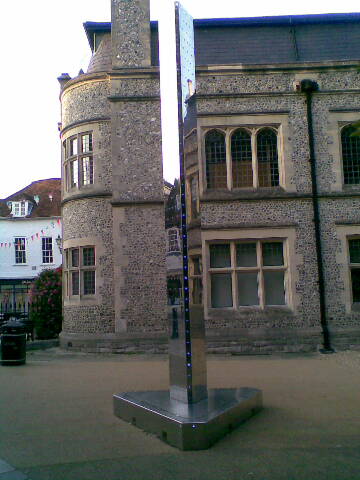 Queen Anne statue / Town clock / Curfew bell: Well, I stroll past this on the High Street several times a week, yet I knew none of the following: the statue of Queen Anne (in a recess) and the overhanging town clock, both on Lloyd's TSB Bank, were given to the city by two MPs to commemorate Queen Anne's visit in 1713; Lloyd's TSB bank is housed in The Old Guildhall which was extensively rebuilt in 1713 and acted as the City Guildhall until the present one took over in 1873; a curfew bell sits in the turret above the clock and is rung every evening at 8pm; the curfew designated the time to extinguish home fires and was introduced following a city fire in 1141; apparently it has been rung for almost 900 years from 'close to this site'; the exact history of where the bell has sat and when it has been replaced over this period is difficult to penetrate (or I gave up, anyway) - the current bell bears the date 1702. The bell does actually ring - I stood there at 8 (the next day) and something rang, although I couldn't tell exactly where it came from.

Luminous Motion: This is a 'light sculpture' - a six metre stainless steel tower pierced with 500 fibre-optic light points, situated in The Square. The light patterns change colour and sequence according to text messages sent by the public (there's a choice of eight words to text). It was commissioned by Winchester City Council, funded by the National Lottery and installed in 2002. It is by Peter Freeman, a Manchester born artist in his early fifties, who does lots of these kinds of things - check out his home page from the given link for other examples. It works - but it probably looks better at night.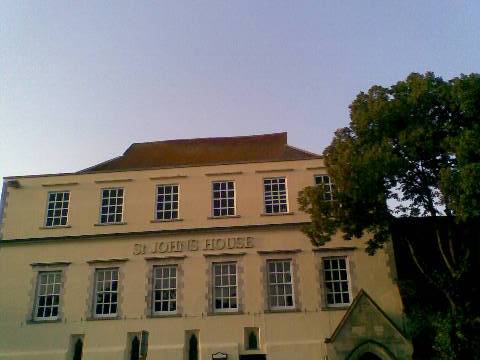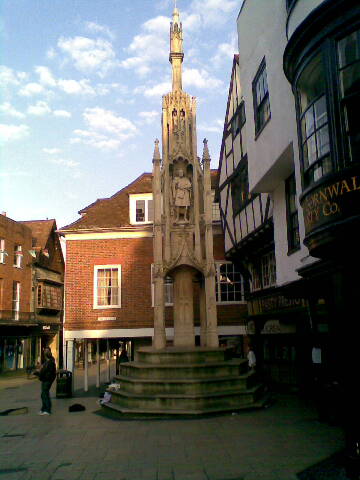 St John's House (and fake windows) (also see here):
The whole reason for seeing this were the six upper floor windows, including the fifth from left which is permanently open with a paint pot and brush just inside. These are fake windows and are just painted on. Obvious once you know, but I had no idea. The building itself, St John's House and adjacent Chapel (formerly St John's Hospital), is situated on The Broadway and is highly historic - dating from 1428 (and built on the site of a 10th century building of the same function); owned by St John's Winchester Charity, which provides almshouse accommodation around the back and elsewhere in Winchester (and its likely the oldest charitable foundation in the country); the main building is currently leased to the YMCA who plan to turn it into a youth facility. The usual kind of stuff.

Buttercross: Also called The High Cross or The City Cross, the name Buttercross is related to its former use as a location to sell food produce. It sits outside a pasty shop on the High Street and people congregate next to or on its steps to chat, eat pasties, busk, etc. - and have done (or similar) for hundreds of years. Each face has a large statue about half way up and two smaller figures above. The monument has been on its present site since the 15th century, although the statue facing the shop - St John the Evangelist (probably) - is the only one to date from this period. The rest date from a restoration of the monument by the architect Gilbert Scott in 1865.

Back to my 'However' - this ended up far more enlightening than I expected and I can now bore people when I pass any of these. I plan to patent the 'culture times 4 in 20 minutes' concept.
Week 33: 10 Aug -16 Aug
Abbey Gardens, Winchester (and Abbey House and The Nunnaminster):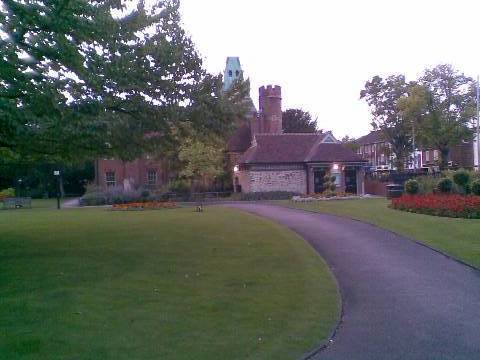 There's a park off The Broadway in central Winchester which I hadn't paid much attention to, but come Sunday evening I checked my list of desperate-last-minute cultural activities and paid it a visit. Abbey Gardens is a very pleasant garden, providing a peaceful atmosphere just a step away from the town centre; there are lots of benches making it a good lunch spot. The grounds feature the scented 'Garden of the Senses' including a stone sundial, a mill stream running alongside, the impressive Abbey House, and Abbey Mill. Of course, since this is 'historic' Winchester, I can't just tell you about a nice garden - there's a bunch of history I have to read up on and write up. So here you go:

Nunnaminster: Abbey Gardens and Abbey House are built on the eastern half of the site of The Nunnaminster (The Guildhall occupies the western half). The Nunnaminster was a monastery (or nunnery) founded by King Alfred's wife Ealhswith in 903, and it acted as a centre of art and learning. It was rebuilt in 964 with the site now encompassing the Old Minster and the New Minster (churches); and it was rebuilt again around 1100 after the Norman conquest, renamed as St Mary's Abbey (with the New Minster being moved to Hyde Abbey). It was destroyed with Henry VIII's dissolution of the monasteries in 1539. Excavations carried out have found burials from the church cemetery and some of these excavations (including open coffins) can be seen to the side of the Abbey Gardens.

Abbey House: This was built around 1700 along with the Gardens. Since 1889, when it was bought by the City Council, the house has been the offical residence of the Mayor of Winchester and the Gardens have been open to the public. The House is the venue for many functions and receptions. Extensive refurbishment was carried out in 1982/83 in 18th century style, to restore the house to its original style and splendour.

Abbey Mill: Abbey Mill (originally powered by the stream) survives from the orignal abbey and is now used as council offices. The Classical Portico (a garden temple) in front of the mill was built in the 18th century.

You will see links between this and next week's activity. Intrigued ?
Week 34: 17 Aug -23 Aug
Hyde Abbey Garden, Winchester: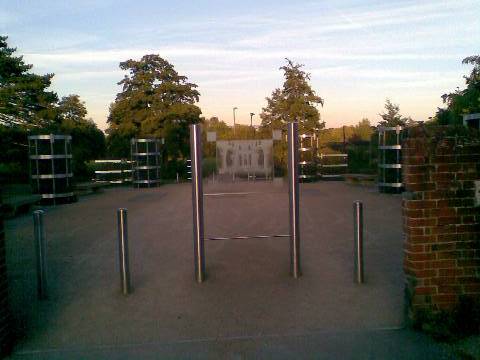 About twice a week for the last two years I've walked through a gravel area near the tennis courts; there's three raised concrete slabs in the shape of gravestones, a bunch of holly trees in steel frames, and some benches in semi-cirular areas to the side. There's also some nearby plaques that I've never read. I had a closer look on the Sunday - so what is it ? To quote from the visit Winchester website (see item no. 14):

"Hyde Abbey Garden, Winchesterís newest public garden, was opened in summer 2003 to commemorate the Queenís Golden Jubilee. Designed by leading landscape architect Kim Wilkie, the garden traces the shape of the former abbey that was the last known resting place of King Alfred the Great, his wife and their son. Planting and flint paving mark out the architectural elements of the church while three engraved ledger stones show the locations of the royal graves. An engraved glass panel by noted local artist Tracey Sheppard was commissioned to act as the focal point of the garden. The engraving shows Traceyís impression of the east end of Hyde Abbey church."

The garden actually traces the shape of the Abbey Church, which was a part of Hyde Abbey. See also Hyde Abbey Garden for further information and here and here for press cuttings from Kim Wilkie's site. The deal is that King Alfred was buried in the old Minster in Winchester in 899, later moved to the New Minster, and then transferred to Hyde Abbey in 1110 ... which was destroyed with Henry VIII's dissolution of the monasteries in 1539. The site has been excavated many times since, most recently in 1995-1999. In theory the remains of the coffins and bones from King Alfred, his wife and son were discovered somewhere along the way, and the bones are now buried in the churchyard of St Bartholomew's Church in Hyde. The latest excavation showed the layout of the Abbey Church, and hence Hyde Abbey Garden was commissioned (by Friends of Hyde Abbey Garden) to visualise this, with the excavated foundations reburied 2-3 feet below the garden.

As an aside, on one of the plaques I read about Winnall Moors Nature Reserve which is just across the rugby fields. It's a great place and really big and wild - I had a wander across and even saw a deer. I had no idea this was here; I must go about with my eyes shut. There's probably a lion reserve outside my flat ... come to think of it, I haven't seen my neighbour for a while.
Week 35: 24 Aug -30 Aug
Modern Jive class at Winchester Guildhall: Thanks are owed to Kevin for this weeks' activity. After suggesting the Tuesday night jive class several times I ran out of excuses and found myself, with a large degree of trepidation, at the Guildhall trying to master the First Move, the Step Across and the Hatchback. And then - ludicrously - you have to put them all together. There were probably abut eighty people there - including Rachel, Lisa and Karl as well as Kevin out of people I know. The way it works is there is a 45 minute beginners' class where you learn three moves (each is a sequence of several steps). You stand in lines watching the teacher demonstrate the moves on stage and then copy them; you swap partners every few minutes with the girls moving down the line (because there are more women than men). There is then a short freestyle session where you ask people to dance and demonstrate your mastery of the moves. After that there's either an intermediate class or (for me) the special needs class where you re-practise the three moves. Finally there's an hour and a quarter freestyle session - overall it's three hours from 8:00-11:00pm. I was mentally drained during the classes trying to concentrate and remember the sequence of moves. The freestyle sessions were (in theory) more relaxing - if you dance with a fellow beginner you are in the same boat, and if you dance with someone experienced they generally indulge your mis-remembered robotic steps and the fact you only know three moves. The thing I didn't know about jive (ok, one of many things) is that the man leads and decides which moves to make; the woman will feel how the man is directing her and will make the appropriate step/spin/move. The company running it is called Dance Yourself Dizzy and the website is good, with videos of many of the moves. Overall - there's a bar, lots of women to fail to impress, it's a laugh and a good social evening; I admit it, it was great.
Week 36: 31 Aug -6 Sept
Paris - The Louvre, Notre Dame, The Eiffel Tower: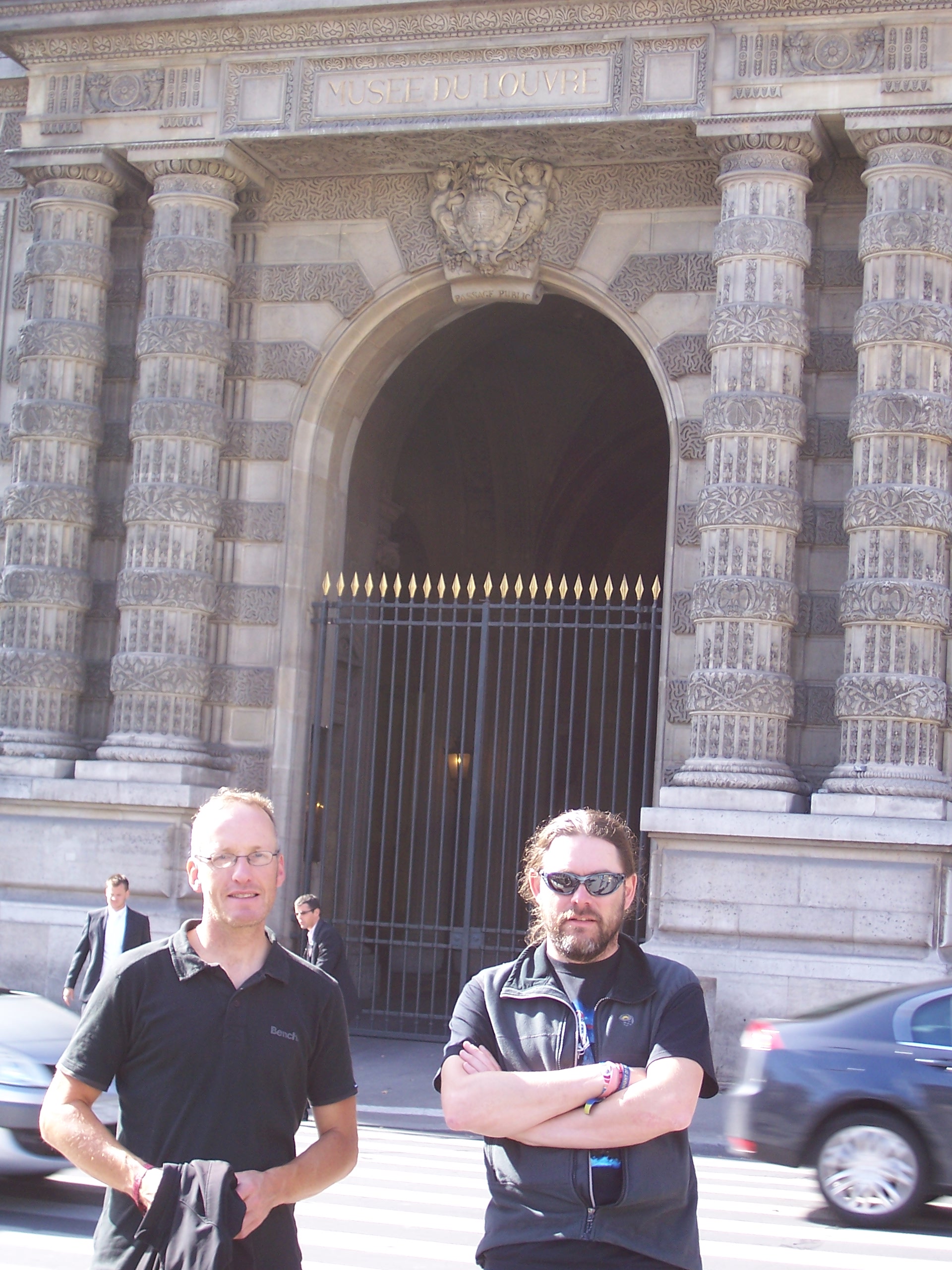 I know, you can't believe this. I'm not wandering down to some local statue late on a Sunday; not finding some obscure Hampshire museum or gallery that's about to close; not even attending a concert by some 80's band from my youth. No we're talking Paris, the capital of culture - and not just The Louvre or Notre Dame or The Eiffel Tower, but all three. Anyway: Steve, Dave and I cut short our Alps trip by a day to take in Paris on the Saturday, as the weather had deteriorated. This is what I found:

The Louvre: The problem with The Louvre is the huge number of exhibits (hundreds of thousands). When there are rooms full of world-famous statues and paintings they almost merge into one and I found it difficult to find something that stands out and that you can engage with; more difficult in fact than with a smaller less renowned venue like Southampton Art Gallery (art purists may not like that comparison, but they probably don't read my website). However, I persevered and found two things. First, there was a room full of Jacques-Louis David paintings. These were mostly large complex historical scenes and I think these are what he is most famous for, but what drew my attention were two realistic and quirky portraits - The Marquise d'Orvilliers (1790) and Monsieur Seriziat (1795). Jacques-Louis David was around from 1748-1825 and was quite a player in the French revolution. Second was the vast painting Les Noces de Cana (The Wedding Feast of Cana) by Paolo Caliari, an Italian artist (1528-88; he was also known as Veronese), painted in 1562-63. The detail is amazing with over 130 feast-goers depicted and even cats and dogs frolicking amidst the crowd. The scene is based on the wedding at Cana where Jesus performed his first miracle by turning water to wine as told in the gospel of John. Figures of the day are mixed with biblical figures in what becomes a 16th century Venetian banquet version of the wedding. It was taken from Venice to Paris by Napoleon's troops in 1797. The Mona Lisa (Leonardo da Vinci, approx 1503-1506, no eyebrows (did you know that ?)) and the Venus de Milo (Greek statue of probably the goddess Aphrodite, approx 100BC, found in 1820 on Aegean island of Milos, no arms) are also ok. Finally, The Louvre itself - this vast building including a glass pyramid is perhaps more impressive than the exhibits. It was first erected as a fortress in 1190, was transformed to a royal residence and and has been a museum since 1793; the pyramid opened in 1989.

Notre Dame: We didn't go in but walked round the building. A few quick facts: various cathedrals were erected on the site from as early as the 4th century; the present building was started in 1163; building works and extensions continued until the 14th century and there have been restoration and cleaning projects in the last couple of hundred years; it houses a world-famous suspended 'great organ' which is still used for services and performances by organists from all over the world - it was built in 1401 and has since been expanded, restored and reconstructed; Victor Hugo's The Hunchback of Notre Dame (Quasimodo, Esmeralda et al), published in 1831, was hugely popular in France ... and is fiction.

The Eiffel Tower: Absolutely enormous and, of course, a fantastic landmark. We didn't have time to climb it but we did buy an ice cream. Some quick facts: 324m high and 125m wide at the base; weighs 10,000 tons; built from 1887-1889 by the engineer Gustave Eiffel; it is repainted in entirety every seven years.
Week 37: 7 Sept -13 Sept
Running Fox sculpture on St Giles' Hill, Winchester: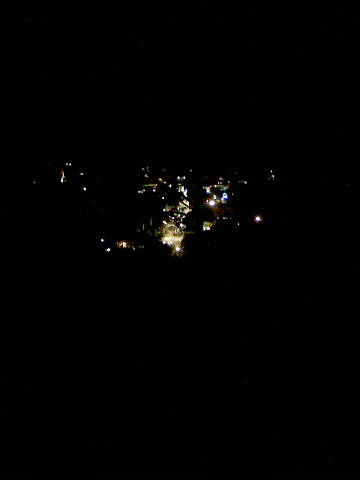 A very busy work week, followed by a Sunday tennis tournament and barbecue left me culture-less at 9pm on the Sunday. Which is why I found myself stumbling around St Giles' Hill in the pitch black, trying to find the Paula Moran seat using the light from my fading bicycle lamp. I had read in the Visit Winchester booklet (item 13) that "A short walk up to the top of St Gilesí Hill is rewarded with spectacular views of the city. Rest on the Paula Moran Seat, commissioned in 1995 from blacksmith Richard Bent. Made from hot forged steel, the seat depicts a running fox". There are a lot of benches on top of St Giles', most of them with memorial inscriptions - generally something like an old lady who has sat on the bench and loved the view all her life. I anticipated finding something similar, although with no views due to it being a moonless night. I was treating it as a bit of a joke - I was completely alone, stumbling in the dark at 9:30 on a Sunday evening, why on earth was I doing this ? And then I found the Paula Moran seat after about ten minutes, and, as ever, I was engaged. First, reading the memorial, Paula Moran wasn't an old lady - she was 36 when she died (in 1994); and second, the seat did have good views because it was pointing at the city lights (see photo on the left). I sat on the bench for five minutes and stared at the city lights in what was a poignant moment - 36 is much too young, of course.

The running fox sculpture on the back of the seat was great although my pictures didn't come out in the dark - see the booklet for a good photo. I have no idea who Paula Moran is - there are no hits on the internet - and it's probably better that way. The blacksmith, Richard Bent, has done lots of similar things - this seat is simply mentioned in a long list on his site as "Memorial Seat St Gilesí Hill - Winchester".
Week 38: 14 Sept -20 Sept
Juliet Turner at The Cabbage Patch, Twickenham: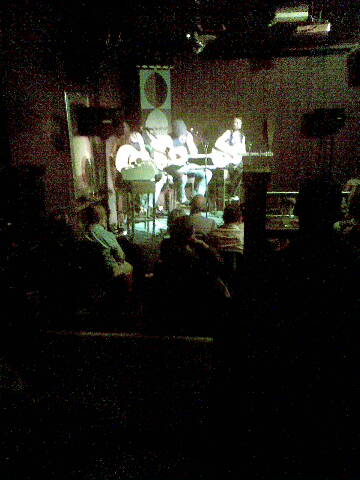 Me: "That's a terrific ensemble you've put together."
Juliet: (smiles) "Did you like it ?"
And then we had a chat. Incredible, and not what I had expected - she also wrote a message on my CD. To set the context, this is Juliet Turner, 36 year old Irish singer-songwriter, hugely successful in Ireland, and generally great (and very attractive). I suspect it meant more to me than her, but anyway.
I've had a couple of Juliet Turner albums for a year or two, since I heard her on Terry Wogan, and was waiting for an opportunity to see her perform. This came on Sunday at The Cabbage Patch pub in Twickenham. The performance was in a function room upstairs which is used as a folk venue - see TwickFolk for upcoming acts. The Cabbage Patch is a big pub with a number of rooms plus beer garden and I liked it - it markets itself as a rugby pub and must be packed when Twickenham matches are on. The staff were very friendly and (superbly) I ordered a pizza from the pub and they brought it up to the function room, where I ate it at the bar while watching Juliet Turner. The function room provided a great intimate venue. There were about 100 people watching, very close to a small stage. Juliet was singing with two other people - Yvonne Lyon and Gentry Morris. They sat in a row and took it in turns to sing, with the others sometimes providing backing singing. The gig was great. It's difficult to categorise Juliet's music - some is pop, some ballad-type folk, most with intelligent and complex lyrics. I knew her songs and of course they were terrific (and anyway, it was Juliet Turner); I liked the other two as well who I would loosely categorise as folk/country/pop (ish). They told background stories before each song and joked around. They're touring the UK in a Nissan Primera and are generally having fun (as I put to Juliet - she said yes) and it showed in their rapport. Juliet is very much the name draw of the three, but I think she is doing what she wants in choosing to tour small venues rather than maximise income - if you read her blog/website you can see she is highly independent with a certain maverick-ness. She currently combines song-writing and touring with studying for a degree in Clinical Speech and Language Studies in Dublin. She's probably thinking of me now.
Week 39: 21 Sept -27 Sept
Winchester Statues: Horse and Rider, and Hampshire Hog: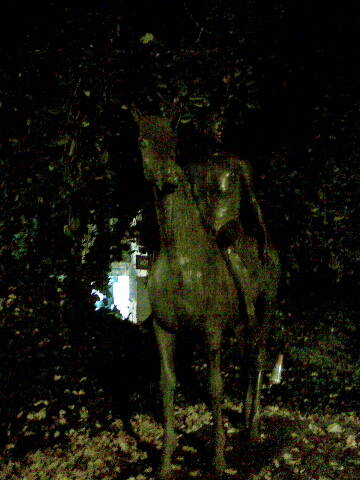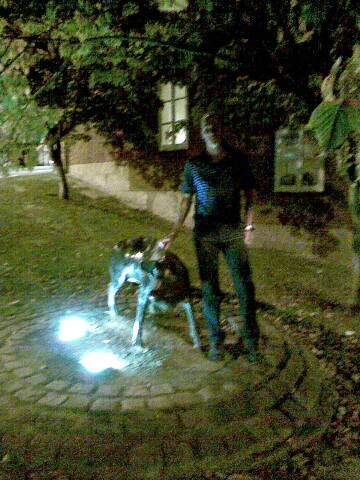 The after tennis drink at Sunday noon deteriorated - for reasons I'm unclear about - into an all day session, with a break between 6:00 - 8:00pm for shower/food/change and an agreement to meet in town afterwards. This then provided my sole window for culture in the week as, predictably, I hadn't thought about it until Sunday ... so I turned to my desperation list. The answer turned out to be two bronze statues in town - you know the story, I head into town, have a quick look at the statues, take a photo and am on my way, culture dripping from my frame. I was ably assisted by Emma in photographic matters and general cultural awareness. Here're my musings:

Horse and Rider: This is just off the High Street opposite the Law Courts and was created in 1975 by Elisabeth Frink. See also here for a brief biography and pictures of many of her works (click on portfolio). She was born in 1930 in Suffolk and died in 1993, and was made a Dame in 1982. She produced many drawings and prints but is best known for her bronze outdoor sculpture. Her subject matter "included men, birds, dogs, horses and religious motifs, but very seldom any female forms". She had a love of horses from a young age (from her father, a polo player and jockey) and there was a series of sculptures called Horse and Rider including this one in Dover Street, London (1974).

Hampshire Hog: This is on Queen Elizabeth II Court (top of the High Street) at the entrance to the county council offices. It was created by David Kemp in 1989 to celebrate the centenary of Hampshire County Council (1889-1989). There is also, brilliantly, a gold-painted hog on the weathervane high above Elizabeth II court - see a picture here. Hampshire hog is a term that was documented as long ago as 1790, being defined as "a jocular appellation for a Hampshire man; Hampshire being famous for a fine breed of hogs, and the excellency of the bacon made there". You will see the Hampshire Hog used as part of their logo by various businesses and organisations around the county. David Kemp, born in 1945, is an artist living in Cornwall. His website shows him to be a imaginative and versatile artist using all kinds of materials - he says "I make things out of things" - and working in different areas including performance and oil painting. His most prolific (and probably best paid) line of work seems to be public sculpture, though, of which the Hampshire Hog is an example.

See the Visit Winchester booklet (items 25 and 30) for a quick description of the two statues (and clearer daytime photos).
Week 40: 28 Sept -4 Oct
Wine Tasting at Theatre Royal Winchester: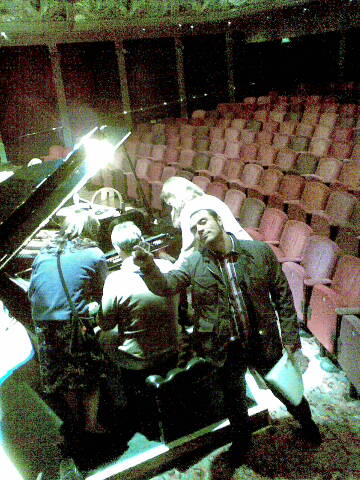 On what was, for once, a planned occasion, I found myself - accompanied by Angelo, Emma, Frances and David - at the Theatre Royal Winchester for a wine tasting session on the Friday evening. Mostly it was just a fun occasion with good company and alcohol - but of course, I also had to fulfil my cultural needs. I am more a lager person but I do like wine; however I confess to some inverse snobbery - you know, "you either like it or you don't"; "what are you talking about, a full-bodied wine ?". That was my old culture-less self and I take this opportunity to retract - wine buffs are just exercising a hobby and making an effort to be knowledgable about what makes a quality wine (mostly). So what did I learn ?
The woman on the door liked my shirt.
The deal at wine tasting is that you try different wines and make notes on them - we had eight tokens to exchange with the merchants on the theatre stage.
The areas to make notes on are: Appearance - you are looking for colour, clarity and intensity (how deep or pale is the colour); Smell (or nose or aroma or bouquet) - the wine should be swirled round to mix it with the air and release the aromas. Does it smell floral, buttery, wet dog, burnt toast ? (I'm not making these terms up); Taste (and aftertaste) - swill the wine round the mouth to appreciate the taste. Is it spicy, sweet, fruity, horsey ?; Conclusion - the overall judgement.
For a beginners guide to wine and wine tasting try this site - especially click on the 'Beginners Guide' and 'How to Taste Wine' links. You could also try the Wikipedia site or, for a list of tasting terms, here.
So, what is a full -bodied wine: "Body describes the texture or weight of a wine in the mouth. Full-bodied wines have a rich, complex, well-rounded flavor that lingers in the mouth. On the opposite end of the spectrum are subtle, more watery, light-bodied wines." There you go - they can be white or red.
We got cheese and biscuits as well, although one bloke took most the cheese.
My notes on the eight wines I tried are as follows, showing high sophistication:

1. Macon-Villages Domaine de la Grange Magnien, Louis Jadot (France) - ok
2. Voga Italia Pinot Grigio delle Venezie (Italy) - also ok
3. Nobilo Sauvignon Blanc, Marlborough (New Zealand) - also also ok
4. Errazuriz Chardonnay Wild Ferment, Casablanca Valley (Chile) - pretty poor
5. Bonterra Rose (California) - quite nice, but difficult to tell after 4 whites
6. Corduniu Pinot Noir Brut Rose, Cava (Spain) - a bit fizzy
7. Errazuriz Pinot Noir Wild Ferment, Casablanca Valley (Chile) - red
8. Bonterra Sauvignon Blanc (California) - a 'special' not on general display, terrific

The evening was rounded off at Froggies and 'Bar 38', lubricated on my part (I am ashamed to say) by lager.


Week 41: 5 Oct -11 Oct
Winchester Castle, Great Hall and Round Table, and Surrounds: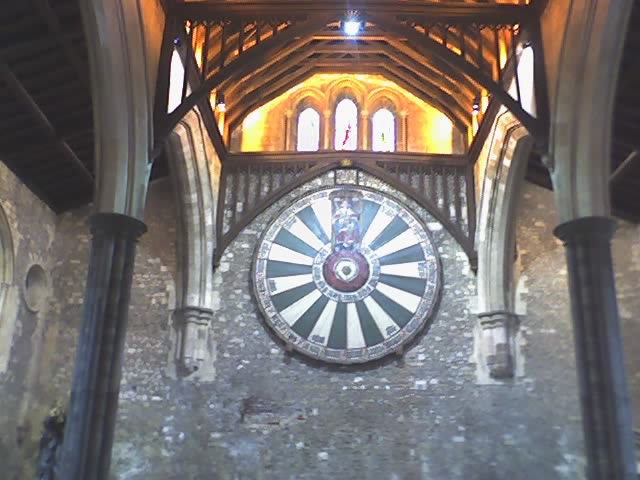 Sunday ended up with myself and Duncan engaged in an increasingly desperate search for culture in the drizzle, after a heavy night out. Following breakfast at the Corner House we tried:
Hyde Abbey Gate - this was temporarily closed due to vandalism
The current exhibition at the Winchester Discovery Centre - this turned out to be Quilty Secrets, 'Hampshire County Councilís collection of quilts, patchwork coverlets and accessories'. You have to draw the line somewhere.
So we went to The Great Hall and Round Table (see photo on the left) - which happens to be tremendous. I am going to define this week's culture as 'Great Hall and Surrounds' as this allows me to bring in extra culture around the Law Courts area - but The Great Hall is definitely the highlight. Here's the lowdown:

Winchester Castle: The castle was built in 1067 just after the Norman Conquest, and extended and rebuilt in the 13th century. The Great Hall was part of this extension under Henry III from 1222-35. The castle was held by royalist forces durign the English Civil War and was ordered destroyed by Oliver Cromwell when it was captured by Parliamentary troops in 1646. All that is left now is the Great Hall, a fenced-off excavated area showing the remains of the round tower and the old city wall, and part of the castle cellar (you descend a stairwell to see this).

The Great Hall and Round Table: The Great Hall is terrific. It's a massive stone hall with a very high roof. To quote: "12th century castle halls were massive and gloomy, with few furnishings. In the 13th century halls became lighter and more comfortably furnished. The Great hall of Winchester was the first and finest of these halls. The Hall reflected the preferences and tastes of Henry III. He was born at Winchester Castle in 1207 and loved to return here. During his reign (1216-72) art, architecture and design became more refined and sophisticated. This trend was reflected in the Great hall. The Hall was the heart of the Castle. When in residence the King dined here, discussed affairs of State with his barons and clergy and sat in court to administer justice." Would be great for a game of five-a-side football as well. The Round Table has hung on the wall from shortly after it was built in the 14th century. Originally unpainted, it was painted to depict King Arthur by order of Henry VIII, and repainted by the local artist William Cave in 1789. It shows King Arthur sitting on his throne with the names of his 24 knights around the edge. Now King Arthur, Camelot, Sir Lancelot, Guinevere, Merlin, etc. is a legend - most famously described in Sir Thomas Malory's Le Morte d'Arthur around 1470 (stories first appeared in the 1100s) - although Arthur may have been based on a real historical figure of the 5th or 6th century. So this is not the real Round Table - sorry. But it's still impressive, weighing over a ton and being 5.5m in diameter. The Great Hall also houses a large bronze statue of Queen Victoria created by the sculptor Alfred Gilbert in 1887 to celebrate the Golden Jubilee (she came to the throne in 1837).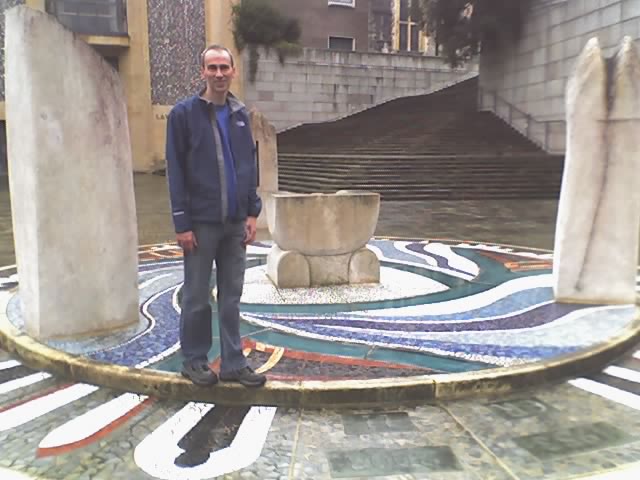 Queen Eleanor's Garden: This is a recreation of a 13th century garden in a narrow space accessed through the south door of The Great Hall (or down some steps behind the Hall). A few quick facts: it was opened in 1986 by the Queen Mother as part of the Domesday celebrations (900 years after the Domesday book of 1086); it was designed by Sylvia Lansdsberg and John Harvey; there is a bronze statue of a falcon inspired by the medieval wooden falcon in Winchester Cathedral; one side of the garden is the last remaining wall of King's House (destroyed by fire in 1894), which was built for Charles II by Christopher Wren in 1683; it's named after Eleanor of Provence, Henry III's queen. It's good.

The Jubilee Sculpture: This (see photo on the right) was commissioned by Hampshire County Council to celebrate the Queen's Golden Jubilee (2002) and was done by the local artist Rachel Fenner. There's a lot of local historical symbolism here - follow the title link for info - but basically it's pleasant and it's better to have this here than just a plain courtyard.
Week 42: 12 Oct -18 Oct
Andy Parsons - standup comedy at Princes Hall Theatre, Aldershot: This is an easy one to write up. No extensive historical research, no side avenues to follow up, no choosing which low quality picture to post, no trying to think up witty descriptions, etc. I was invited by Matt to see Andy Parsons (who's on Mock The Week on TV) at Princes Hall, Aldershot on the Wednesday, went along with Matt, Christine and Graham, and it was a good evening's entertainment. There was no real theme to his comedy, just lots of jokes - almost none of which I can remember. He picked on a few members of the front row and mixed that pretty well with his 'solo' standup stuff. There you go job done, on to next week.

... ok, there is one joke I remember: he said Britain is the only place in the world you get applause for saying your town is rubbish; the applause only to be bettered when you say at least you're not living in the town up the road (in tonight's case, Aldershot and Basingstoke respectively).
Week 43: 19 Oct -25 Oct
Winchester Cathedral Close: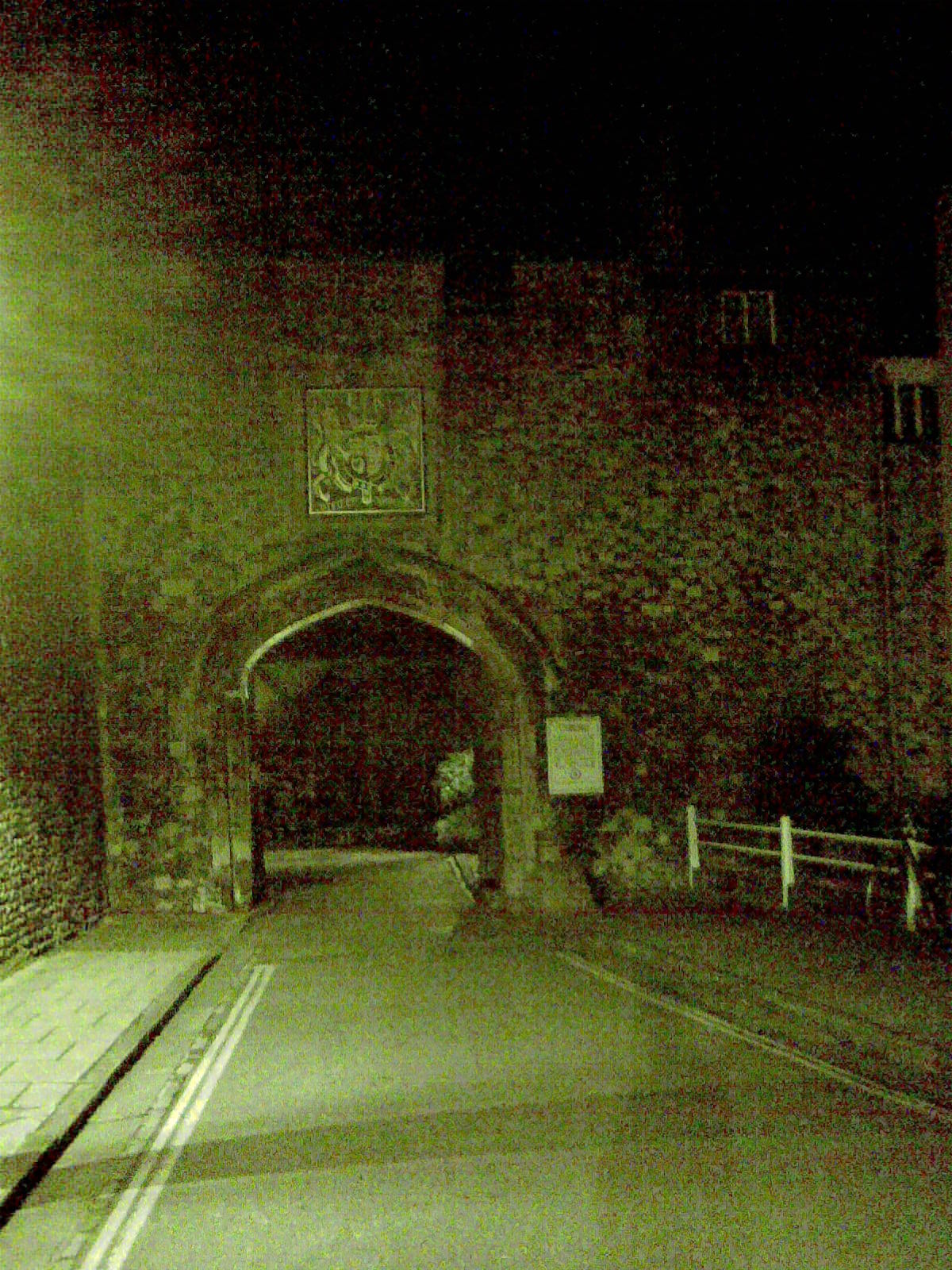 About 7:30 on the Sunday night and I'd just watched the football in town. To fulfil my cultural quota for the week I diverted to The Cathedral Close. This is an astonishing area south of the Cathedral. Bounded by high walls and solid gates (which are locked at night - how do the residents get back from the nightclubs ?), it provides a combination of peace, open space and history. This link provides an overview, and here are some of the details of its attractions:

Dean Garnier Garden: This is accessed through a heavy oak door and up ancient stone steps from the Inner Close of the Cathedral. The site lies on the dormitory of an old Benedictine monastery and was originally made into a rose garden by Dean Garnier who arrived at the Cathedral in 1840. The current Dean Garnier garden was brought into being by the Friends of Dean Garnier Garden, designed by Sally Hocking, and opened in 1995. It's superb - peaceful, with a great view of the cathedral, and a dog curled up under a stone bench; see here or here for more details.
The Deanery: The Deanery is the official residence of the Dean of Winchester, who looks after the Cathedral - leaving the Bishop (who has a better house, see Week 14) to wider duties. The building is next to Dean Garnier's garden: the porch is 13th century, most of the rest was rebuilt in the 17th century, and there's usually a second hand book and record sale under the arches at the back. The Deanery now incorporates what used to be the Prior's House and the Prior's Hall. [It used to be the Prior who looked after the Cathedral, which is why you see references to the Prior's House, etc.; a whole chunk of Cathedral Close made up the old St Swithun's Priory.]
Pilgrims' Hall: Pilgrim's Hall dates from around 1308 and is all that remains of a longer medieval building; it was formerly the priory guest house. Pilgrim's Hall is of great historical importance as it has the earliest example in the world of a hammer beam roof. No, I don't know what that is, either.
Pilgrims' School: Pilgrim's School was opened in 1931 and includes Pilgrim's Hall. It is the choir school of Winchester Cathedral and is a boarding and day school for boys aged 4-13.
Prior's Gate and Cheyney Court: Prior's Gate (pictured) is the 15th century main entrance to the Close and just inside it is the adjoining Porter's Lodge and Cheyney Court (apparently the most photographed residence in Winchester), both 15th century.
Kingsgate and St Swithun's Church: The tiny and superb 13th century St Swithun's Church over the arch of Kingsgate is just outside Cathedral Close. The first reference to Kingsgate (one of the ancient gates in the city walls and standing on the site of the original Roman South Gate) is from 1148 and to the church 1264 (when it burnt down and was rebuilt). Everything you need to know about the church is here, and the best photo is here.
Week 44: 26 Oct -1 Nov
Hyde Abbey Gate and St Bartholomew's Church (King Alfred's burial place), Winchester: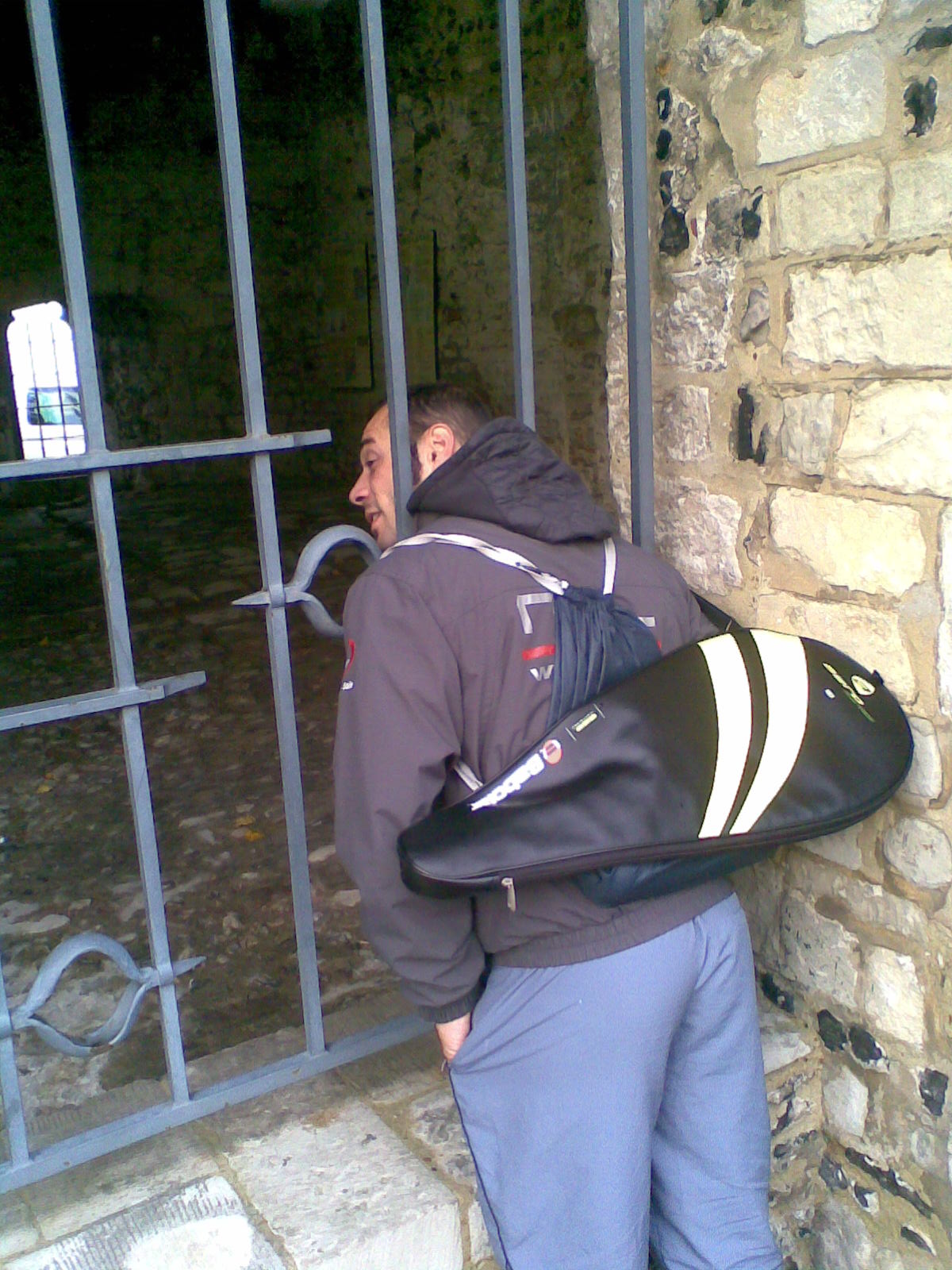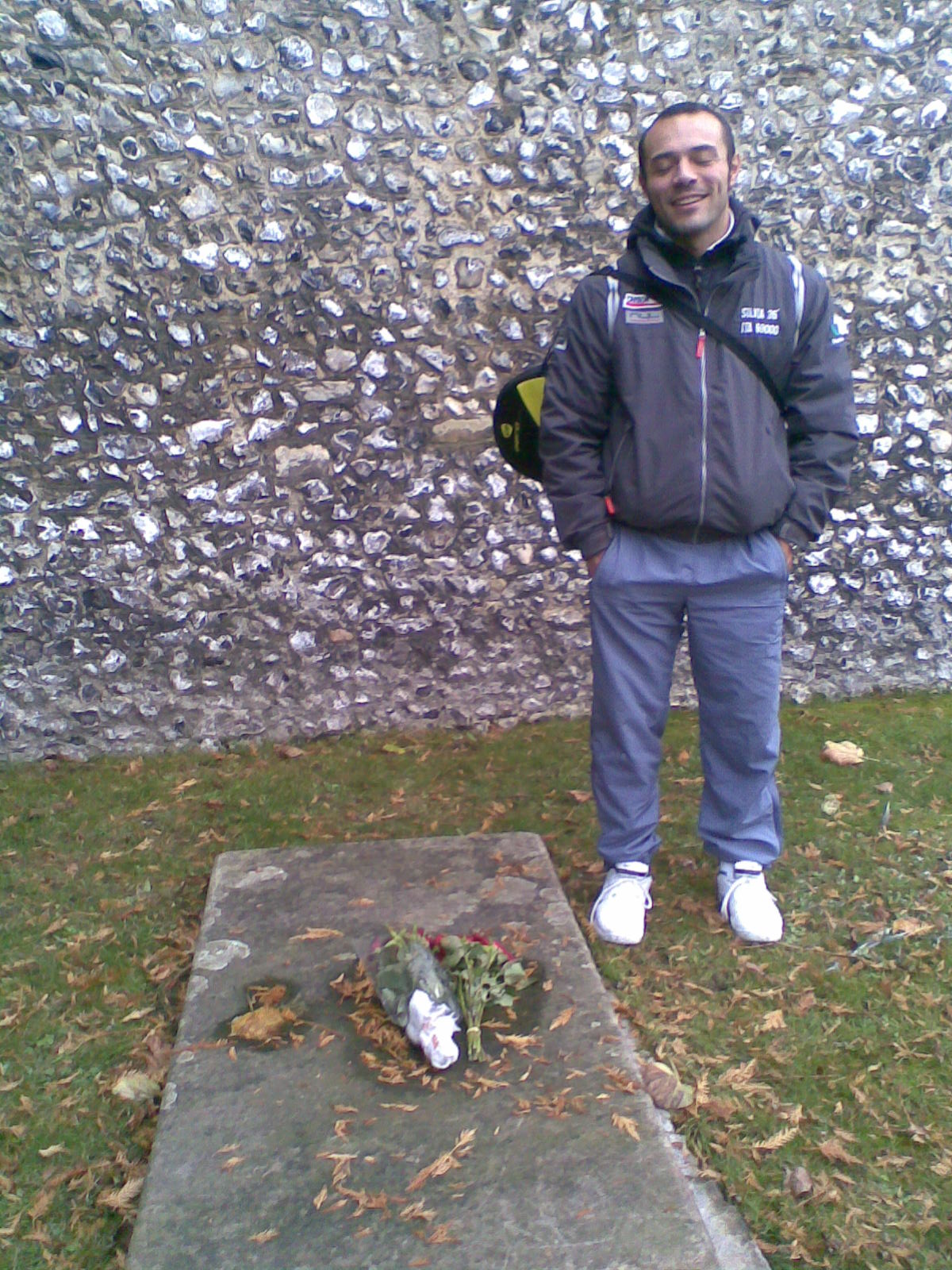 Here's the scene: It's Sunday afternoon, Angelo and myself are at the tennis courts and we have half an hour to find some culture and get back for our match. A situation we're all familiar with. Luckily we were within striking distance of Hyde Abbey Gate and St Bartholomew's Church. Having diligently read Week 34 you will already know about Hyde Abbey and the final burial place of King Alfred. But just to remind you ...

Hyde Abbey Gate: This is temporarily closed as you can see from the picture on the left. It's a 15th century gate that controlled access to the outer court of Hyde Abbey, although there is evidence of an earlier gate on the site. The gate now houses display panels telling the story of Hyde Abbey, but since we couldn't fit through the bars we couldn't read these. However, my painstaking research has revealed: The Abbey was originally built in the city centre and was known as the New Minster; Henry I ordered it to be moved to Hyde in 1110 because the site was too crowded after the construction of the Cathedral (see description of The Nunnaminster in Week 33); the remains of King Alfred, his queen and son were reburied in the Abbey Church at the time of the move; excavations have revealed a number of buildings that were part of the Abbey - the Abbey Church, a guesthouse, an almoner's hall, a mill, cemeteries, an infirmary and the still remaining Hyde Abbey Gate; fragments of the hall and guest house also remain; the Abbey was destroyed by Henry VIII's dissolution of the monasteries in 1539. Basically the Abbey covered a large area. And here's the link with Week 34 - Hyde Abbey Garden marks out the Abbey Church which was a part of the Abbey (probably the most impressive part).

St Bartholomew's Church: This is opposite the Gate and was in the most public part of Hyde Abbey - it served as the parish church for Hyde. The actual church was built 900 years ago, and some of that structure remains. Additions, including the tower, were made in 1538 and the North Aisle was added about 150 years ago. In theory (as described in Week 34) the bones of King Alfred, his wife and son are buried in the churchyard at the East end of St Bartholomew's Church. The grave is unmarked and simply inscribed with a faint cross. We found it easily enough because there were flowers on the grave - for King Alfred's Day the previous Sunday as we were told by Elizabeth, an old lady who beckoned us over from a cottage at the far end of the churchyard. And there you go, the search for culture led to an old lady coming out of her home and chatting to us for five minutes about local history - superb. We were tempted to go in for tea, but had our tennis match coming up. We might never have been seen again (only kidding - she was great).
Week 45: 2 Nov -8 Nov
Fireworks Display and Winchester Guildhall: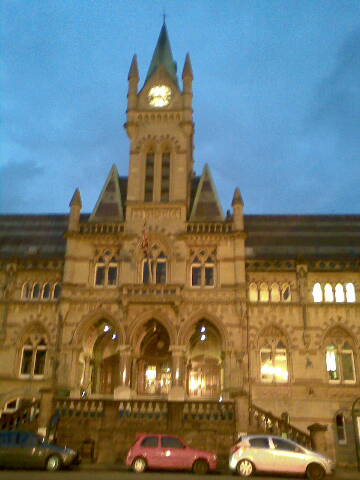 This week saw traditional culture with a Bonfire and Fireworks Display in the fields behind River Park leisure centre on the Saturday. Yes while we're here, the 7 Nov not the 5 Nov - it's a modern 'tradition' to always put an event on the adjacent Friday or Saturday if not weeks away (ever see a stag night the night before the wedding now ?). Anyway, on with the description. Jamie, Marcia and myself watched the display - see another of my famous blurred photos on the left - then went down the pub. There was actually a torchlight procession from the town centre to the site of the bonfire, but we missed this. The event was organised by the Winchester Round Table and is a regular event - loads of people were there, apparently 20,000 last year. And there you go ... no wait, this blog has developed a historical angle, so a little about Guy Fawkes: The Gunpowder Plot, led by Robert Catesby, was a Catholic plot to kill the Protestant James I and as many Members of Parliament as possible (Parliament was seen as majority Protestant and James I had passed a law fining people not attending Protestant services). The plan was to blow up the Houses of Parliament on 5 November 1605, the day the king was due to open Parliament. A cellar was hired under the House of Lords and filled with barrels of gunpowder. Guy Fawkes was to create the explosion due to his munitions experience gained fighting for the Catholic cause in Spain. The plot was discovered by a search of the cellars in the early hours of 5 Nov and Guy Fawkes was caught red-handed. He and his co-conspirators were hanged on 31 January 1606. Guy was also called Guido Fawkes (adoped while fighting in Spain) and was 35 when he died. Londoners were encouraged to celebrate the failure of the plot by lighting bonfires that day (5 Nov 1605) and hence the traditon was born, with effigies of Guy Fawkes being burnt. In fact, the subsequent 'penny for the guy' call led to 'guy' referring to a 'man of odd appearance', and eventually (via American English) just to a man - I declare an interest here. See the Wikipedia entry for more info.

The Guildhall: I wasn't quite sure if Fireworks Night qualified as culture (it does), so I strolled down town to The Guildhall on The Broadway on Sunday evening. You've seen The Guildhall mentioned several times in this blog - you'll remember the Old Guildhall (now Lloyds Bank) from Week 32, that The Guildhall occupies the western half of the Nunnaminster site from Week 33, and my mastery of jive from Week 35. I asked the security guard if I could see the art gallery, but it turned out my information was out of date (it's moved to the Discovery Centre on Jewry Street) - but he did say I could wander around. So I strolled round all four floors of the building, poking into ornate halls and functional conference rooms. It was quite spooky actually - there was no-one else about and sometimes I couldn't find light switches for the rooms I had entered. Things to mention - it's owned by Winchester Council and functions as a conference/events centre; there are a number of large paintings (from the 17th to 20th centuries) along the stairways and corridors; it's a damned impressive building (in the Gothic revival style); opened in 1873; large events (e.g. WWI victory celebrations) took place on The Broadway facing the Guildhall podium/facade.

[I also attended a Remembrance Sunday service outside Winchester Cathedral. I guess this is culture or tradition, although much too important for my usual flippant musings. It's possible to forget or not know what this means, so I will give my usual summary: held on the second Sunday in November which is normally the closest Sunday to Remembrance Day, 11 Nov; Remembrance Day was originally known as Armistice Day after the signing of the Armistice on 11 Nov 1918 to end World War One and cause the guns on the Western Front to fall silent at 11am; renamed Remembrance Day after World War Two and now used to remember the dead from both world wars and other conflicts; The Last Post is played by bugle to introduce a two minute silence at 11am, ended by the sounding of the Reveille bugle call, and followed by the reading of The Ode of Remembrance (.... They shall not grow old ...) from the poem 'For the Fallen'; poppies are worn for remembrance to symbolise the life and hope shown by the poppies that sprang up on the battlefields of Flanders (immortalised in John McCrae's poem In Flanders Fields); a national ceremony takes place at the Cenotaph, Whitehall where the Queen lays the first wreath and similar ceremonies take place at war memorials all over the UK; also celebrated in various Commonwealth and other countries; see also here. In memory.]
Week 46: 9 Nov -15 Nov
Hockley Viaduct and St Catherine's Hill, Winchester:


Hockley Viaduct is a 118 year old Victorian edifice that is the largest brick built structure in the country and the oldest in Britain with a concrete core. Hooked ? It can be seen from the sliproad at junction 11 of the M3 and there's also a path over the top of it ... but from neither of these can you see the real structure or the arches in their glory. So my plan was to walk the length of the viaduct at ground level, on the opposite side from the M3 (as per picture), and then walk back along the top path. Sunday and about an hour 'til dusk, and I started out. This was a great thing to do and I don't think many people do this - you have to jump over ditches and scramble through brambles and undergrowth. I reached the viaduct across the fields from St Cross and then walked past or through each of the 33 arches. A few quick facts: first of all, if you didn't know, a viaduct is 'a bridge with several spans (or arches) that carries road or rail traffic over a valley or other obstacles'; once linked the Didcot, Newbury and Southampton railway with the Great Western Railway, and was in use for passenger traffic until 1960, and freight until 1966; the track also passed through a tunnel under St Giles Hill before reaching the station at Chesil Street; the viaduct is owned by Winchester City Council. If you want to know more check out this site or go and read the plaque on the M3 sliproad. And yes, it was dark when I finished.

I climbed up St Catherine's Hill afterwards. St Catherine's Hill is terrific in the light with great views over both the South Downs and Winchester - I have climbed it many times. It was little short of pointless to climb it in the dark, merely to add it to my weekly blog - and yet ... once I stumbled up the path and steps and walked round the top of the hill, I saw a magnificient view of the town lights. Quick facts: rises approximately 70m; owned by Winchester College and managed as a nature reserve by the Hampshire Wildlife Trust; much of the hill is designated as a Site of Special Scientific Interest (SSSI) due to its chalk downland flora (orchids and butterflies and stuff); the top of the hill is ringed by the ramparts of an Iron Age hill fort; in the centre a copse of beech trees contains the site of the 12th Century chapel of St. Catherine; there is a mizmaze at the top, probably cut in the latter 17th century [This bit is fascinating (honest): there are eight surviving historic turf mazes in England and only two are classified as mizmazes - St Catherine's Hill and Breamore, Hampsire - where the pattern looks more like a long rope and the path has no stems; in addition there are only two of these mazes - St Catherine's Hill and Saffron Walden, Essex - where the path is defined by a groove in the turf, not the turf itself. You're probably stunned and breathless now.]; you can see it from my window.
Week 47: 16 Nov -22 Nov
Winchester cultural pub quiz chez Frances/David: A Sunday afternoon historical/cultural quiz based on a pub-route round Winchester. What more could you ask for ? Given my extensive exposure to Winchester culture this year, our team (Penny, Rob, Andrew and myself) should have won this. We didn't.
Week 48: 23 Nov -29 Nov
Puxton Church, Somerset: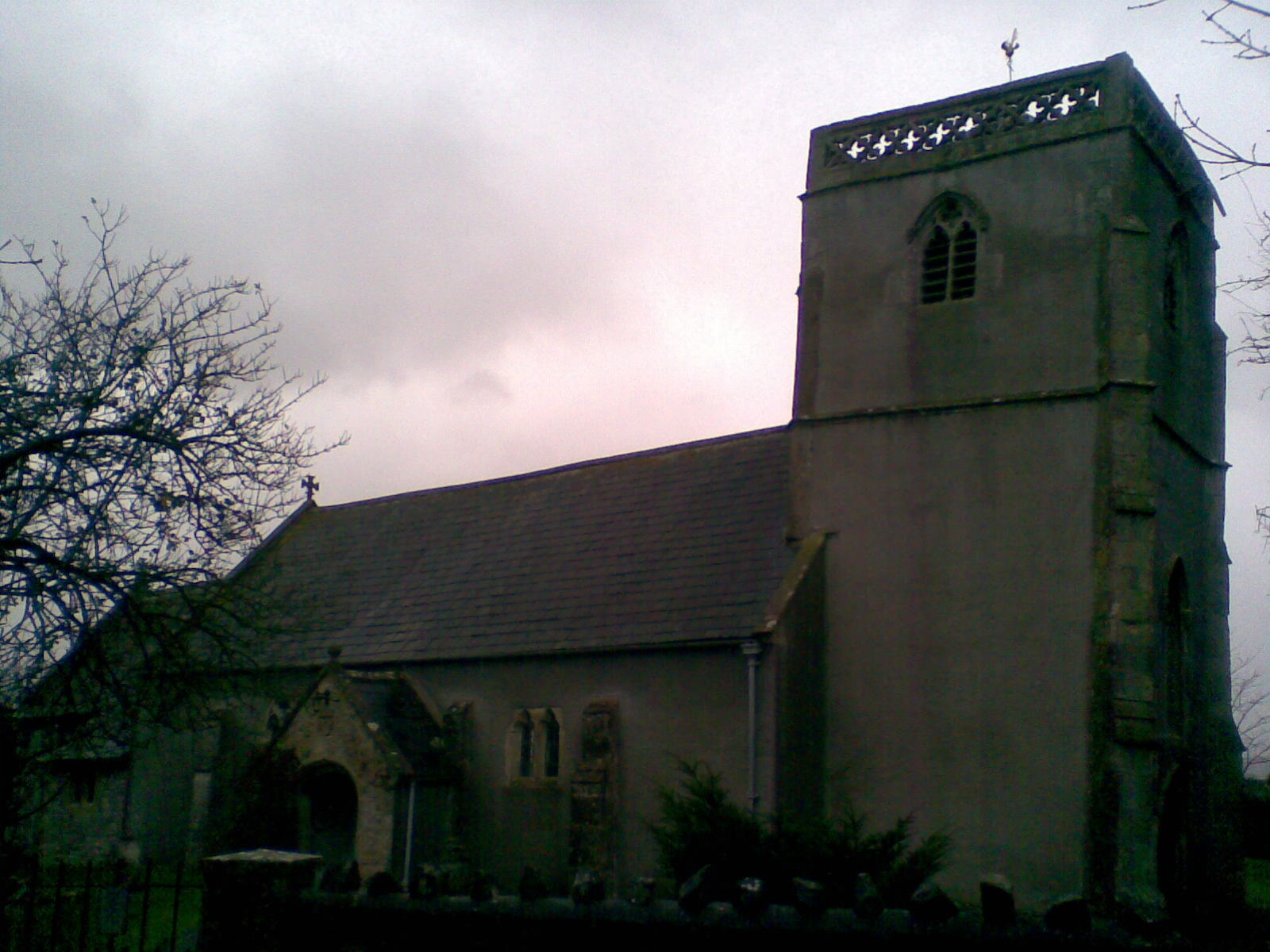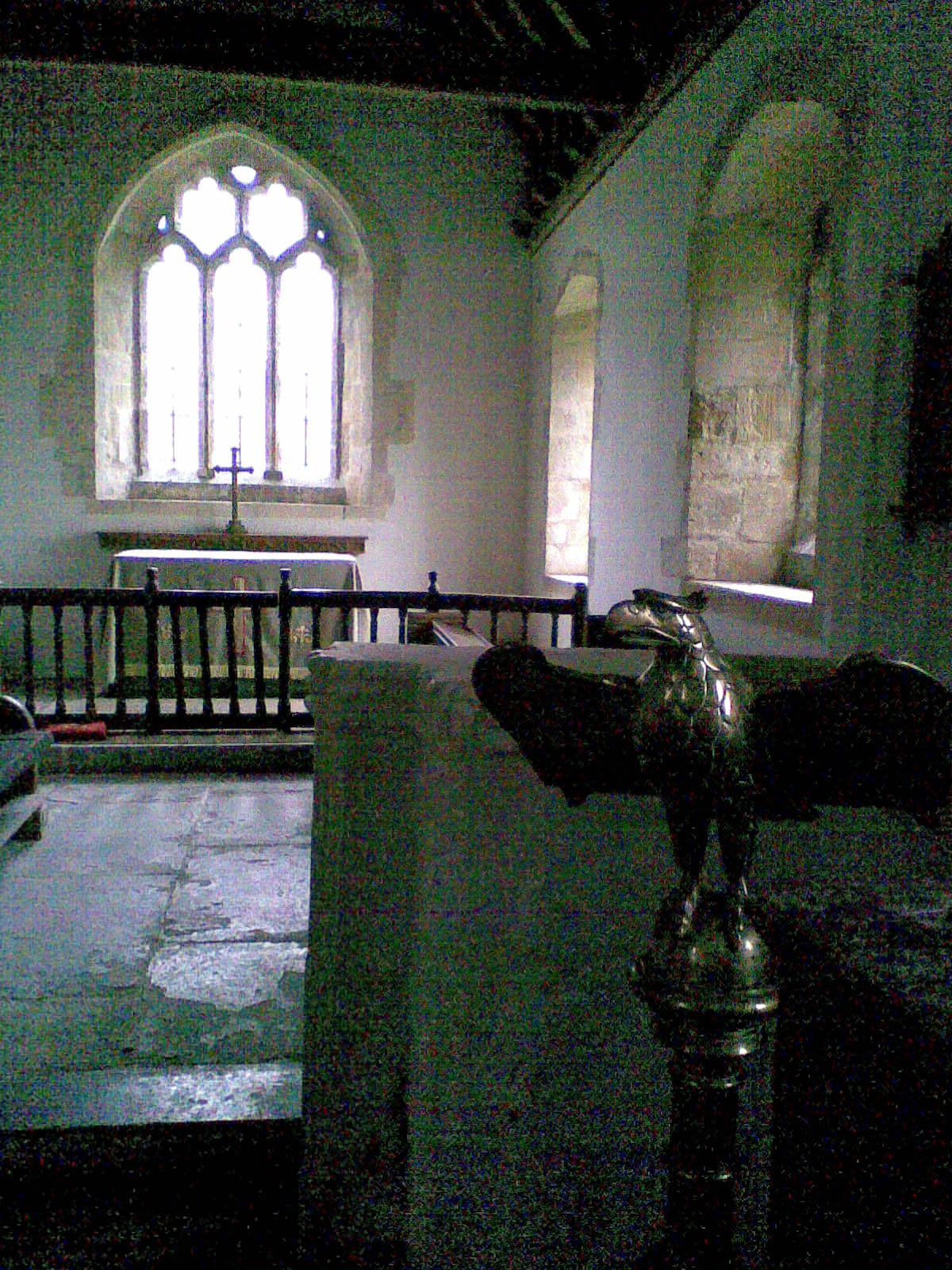 A 12th century church visited on a rainy Sunday afternoon. I have a 12 page booklet and will write it up when I have read it. Honest.
Update: ok, that was a bit ambitious. Luckily there's a website - see Puxton church (click the Puxton link). I was there on my own, which is great with these places, you can absorb such a peaceful and 'ancient' atmosphere - see the Carol Service in Week 51 for a contrast. As a quick summary: the church has not been used for regular services since 2000 and is maintained by The Churches Conservation Trust; parts of the building and interior date anywhere from the 12th to the 20th century; the tower is leaning; and there are bats in the tower. What more do you need to know ?
Week 49: 30 Nov -6 Dec
Winchester parks and gardens: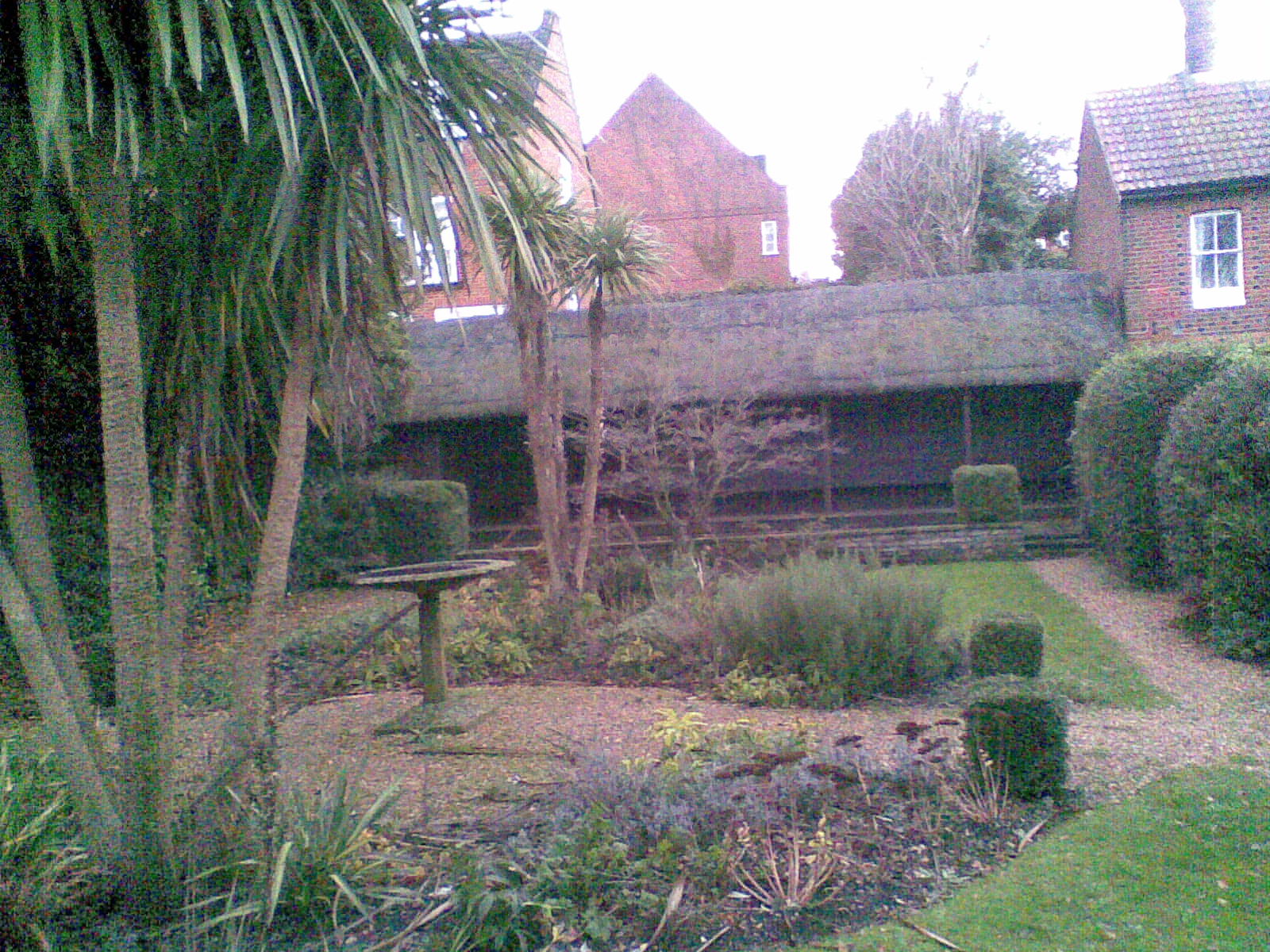 Sunday afternoon. Hungover from the tennis party. But still managed to perform a tour of the parks and gardens of Winchester - see this link. To be completely honest, I didn't visit all these as I had already seen some in previous weeks. Quick comments as follows:

Abbey Gardens: Great garden/park in centre of Winchester - already seen it, see Week 33.
Dean Garnier Garden: Terrific closed garden at the back of the Cathedral - already seen it, see Week 43 (remember the dog).
Queen Eleanor's Garden, Great Hall: Closed 13th century garden reproduction at the back of the Great Hall - already seen it, see Week 41.
Serle's House Garden: Large garden at the front of Serle's House (on Southgate Street), which houses the Royal Hampshire Regiment Museum. It's good !
Scott Garden: Small garden between Colebrook Street and the River Itchen, created in memory of Sir Leslie Scott (1869-1950, Conservative MP for Liverpool 1910-29) in 1952 - I've no idea why, but there's a plaque bearing his name on the wall. Garden peaceful and ok.
Wolvesey Slips: Also known as The Weirs or Riverside Walk, this is simply the walk along the river between the Bishop on the Bridge and Wolvesey Castle - it's pleasant, to utilise my full descriptive powers.
Joyce Garden: Grassed area at the top of St John Street (and who Joyce was is a mystery) - good views of the city, but not as good as from ...
St Giles Hill: ... which has superb views. We've been here before - see Week 37 - although it was dark last time.
Friary Garden (pictured): In Culver Road (near-ish the cinema), this is fully enclosed and a great little secret. Deserted when I went there, there's a children's play area near the entrance, a garden beyond that and a thatched timber pavilion at the rear running the full width of the garden.
Oram's Arbor: Large open grass area off Clifton Terrace. There's a monument called Littlehales Memorial at the front; dated 1880, it was formerly outside the Westgate and is a (disused) drinking fountain - it's dedicated to the memory of Ann Littlehales by her son Lancelot. One of the houses has a very large chimney in its back garden.

Week 50: 7 Dec -13 Dec
Chris Difford, The Railway, Winchester: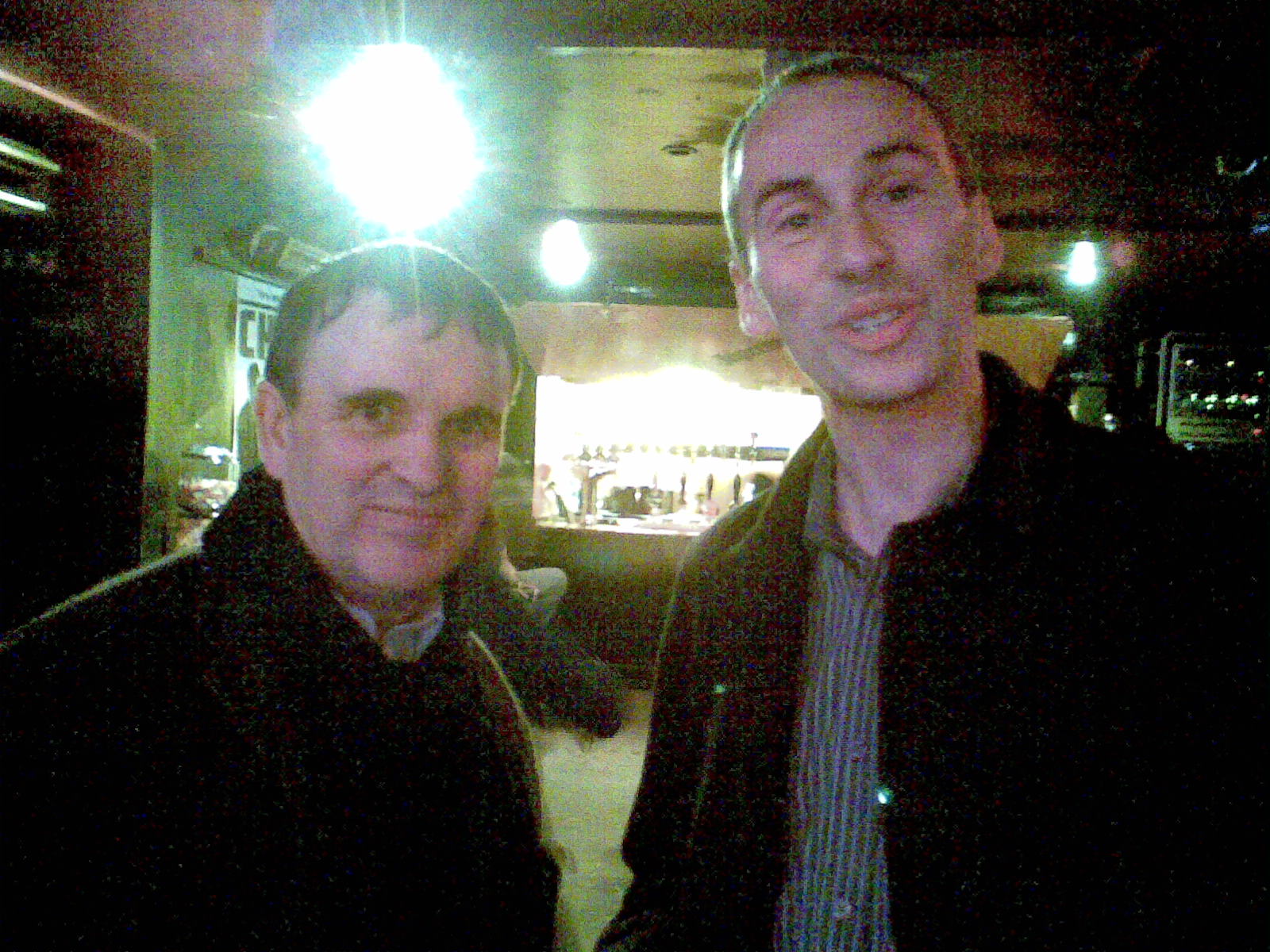 'I never thought it would happen, With me and the girl from Clapham' - can you beat that for opening lyrics (Up the Junction by Squeeze) ? Chris Difford was the lyricist for Squeeze and the lyrics for their songs are well-crafted and original (have a look at Cool for Cats). He was also the lead singer on Cool for Cats, although Glenn Tilbrook (who wrote the music) was normally the lead singer; Jools Holland (on keyboards) was the other high profile band member. Anyway, Wednesday evening found me at The Railway with Jamie and Marcia to see Chris Difford play some of his new stuff and also some old Squeeze hits. The music venue was a function room round the back of the Railway and was exactly what you expect for a small independent music venue - underground, fairly dark, rectangular, with the bar along the back wall opposite the stage - and there is actually something on more or less every night. There were two local acts on before Chris Difford - one decent rock band whose name escapes me, and Freddy Furber whose ballads were borderline suicidal. Chris Difford was superb - highly professional, easy rapport, amusing videos as a backdrop to the songs, the Squeeze songs I knew were great and his new songs were good too. See also the Chris Difford website and the Squeeze website. Squeeze's heyday was '78-'81 when they had six top 30 hits, including number twos with Cool for Cats and Up the Junction; they are reforming for a tour next year. If you haven't noticed, that's me with Chris on the left !
Week 51: 14 Dec -20 Dec
Carol Service at Christ Church, Winchester: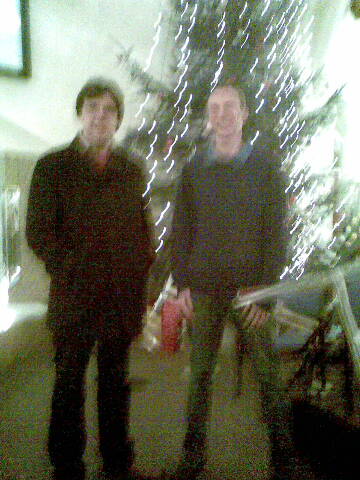 There have been a few churches in my cultural odyssey and they've been fascinating - deeply historic and peaceful (and sometimes eerie). They've also been dead, although this could be because I've chosen to wander round alone - whereas Sunday evening's carol service at Christ Church was vibrant. With many thanks to Karen and Greg for the invite, I found myself outside the church hoping I didn't have to sing (I did), and then hoping I'd get away with it (just about). The service comprised readings, drama, the sermon, a choir and, of course, our own carol singing - I'll say this quietly, but I quite enjoyed the singing. The church was packed and the atmosphere very alive, but also peaceful - churches are like that, I guess. Although the choir ruined Away in a Manger, everything was done with great enthusiasm and sincerity. Afterwards, superbly ... we got mince pies and mulled wine. This was true culture, tradition, community spirit and spirituality rolled into one. All in all a terrific evening, rounded off with drinks and a meal at the Bell. Greg and I are on the left, expertly photographed by Karen. Only two weeks to go now.
Week 52: 21 Dec -27 Dec
Stonehenge: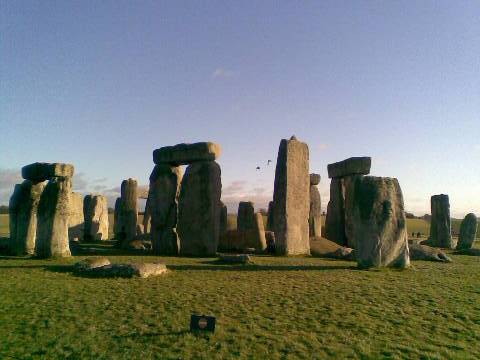 There's a pile of stones off the A303 near Salisbury, that you can pay £6.60 to look at. Ok, that's a bit harsh - Stonehenge is a world-famous landmark - but I did find a certain anti-climax when I visited on the Sunday, especially as the stones are roped off so visitors have to circle them at a distance (although groups can arrange full access outside normal hours). The most interesting things about it are not linked to actually being there - they are its construction and the mystery of its purpose. Stonehenge (or also see here) is owned and managed by English Heritage who control access and run a shop and refreshment stalls; Stonehenge landscape is the surrounding land (1,500 acres) including ancient burial mounds and is owned by the National Trust. Stonehenge and Avebury and the surrounding area is a World Heritage Site (there are 27 in the UK and 878 worldwide) - Avebury stone circle is about 20 miles north of Stonehenge and is managed by the National Trust on behalf of English Heritage (and you can wander amongst the stones!). Stonehenge was built in stages from about 3,100 BC to 1,500 BC - roughly speaking: the first stage consisted of a ditch, bank and circle of Aubrey holes (pits 1m wide and deep); the second stage (about 1,000 years later) was the tranportation of 80-odd bluestones (up to 4 tons) from the Preseli mountains in S Wales - a journey of 240 miles accomplished via manual rollers or sledges and rope, and rafts - and their placement to form a double circle; the next stage saw the transportation of Sarsen stones (up to 50 tons) from the Marlborough Downs 25 miles away - an enormous effort, it would have taken 500 men to pull one stone - and their erection into an outer stone circle with lintels and 5 trilithons (pairs of stones with lintel) in an inner horseshoe shape; a final stage rearranged the bluestones into a horseshoe and circle. There is also the Avenue - a 2 mile earthwork monument leading from the River Avon to the site (best seen from the air), and a Heel Stone stands in the centre of the Avenue just outside the entrance to Stonehenge. There are various theories and books about the possible astronomical function of Stonehenge regarding alignment with solar and lunar events - e.g. it predicts eclipses, it is a giant astronomical calendar, etc. The most striking fact is that, from the centre of the circle, the Heel Stone aligns with sunrise on the summer solstice (21 June), which is why druids and hippies flock there at this time. The study of the astronomical significance of ancient monuments forms a discipline called astro-archaeology or archaeoastronomy - see here or here for further details as applied to Stonehenge. The overall consensus seems to be that Stonehenge was used for various religious and ceremonial purposes. Ok, I admit it, it is quite interesting. One more week to go.
Week 53: 28 Dec -31 Dec
Peninsula Barracks and Military Museums (especially The Gurkha Museum), Winchester: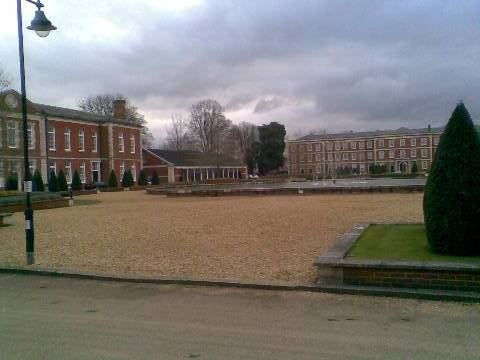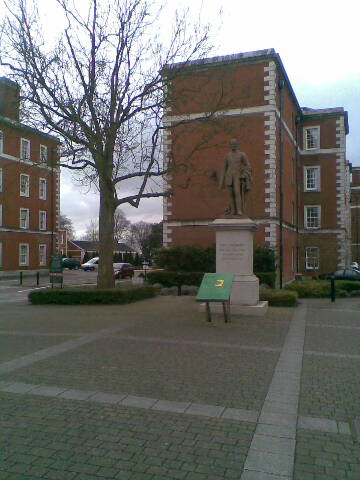 My ideal for this final week was a Hungarian string quartet on unicycles, but they were all busy. Then I realised that I didn't need to - and indeed shouldn't - do anything spectacular; I should provide a typical reflection of the year. So New Year's Eve found me in the Peninsula Barracks area of Winchester - and, as ever ... it was magnificient. Peninsula Barracks is a residential area between the cinema and the railway line converted from military barracks, with the central Peninsula Square (pictured left) demonstrating great architecture and containing a terrific and peaceful landscaped central square (the old parade ground). A brief history of the site is: a castle was built here by William the Conqueror in 1067 but demolished by Oliver Cromwell in 1651; a palace for the site was designed by Christopher Wren in 1685 but was never completed, the partial construction being called The King's House; used as military barracks from 1796-1986 with a break from 1894-1904 (for rebuilding after a fire) and 1961-64 (for modernisation). See here for more details on the history. After 1986 the Barracks were left empty and permission was given to demolish the site, but SAVE Britain's Heritage and local architect Huw Thomas proposed a scheme to convert the buildings for residential use and found a developer to buy the site - see here for a fascinating account of the battle with Winchester city council over this. In addition to the residences Winchester's cinema was also built in the old garrison church and the luxury Hotel du Vin (the first of a chain) rose on the edge of the site.
There are also six military museums on the site - see here for a description of each and relevant links, but below is a brief guide:
The Gurkha Museum: The history of the Gurkhas in the British Army.
The King's Royal Hussars: The history of the cavalry regiments that formed The King's Royal Hussars, including the charge of the Light Brigade during the Crimean War.
The Royal Green Jackets: The history of a number of regiments that were amalgamated to form the Royal Green Jackets in 1966.
The Light Infantry (The Rifles): The history of the various Light Infantry regiments that were amalgamated into one in 1968 - and they were further amalgamated with the Royal Green Jackets to form The Rifles in 2007.
The Royal Hampshire Regiment: The history of the Royal Hampshire Regiment . This is the only one of the museums slightly outside the Peninsular Barracks area - it is in Serle's House on Southgate Street.
The Adjutant General's Corps: Also called the Guardroom Museum, this is in a 19th century guardhouse and describes the history of army personnel administration and the military police. There is also a visitor centre featuring information on all the museums and the history of Peninsula Barracks.

I visited The Gurkha Museum, which was the only one open. There was a mass of information here on the history of the Gurkhas, including the many campaigns they were involved in, and Nepalese culture in general. The museum also stores regimental records and keeps an archive that you can request information from for a fee. I'm really not going to go deep into the history of the Gurkhas here, although I can't resist one more humble truncated summary: Gurkhas are people from Nepal and northern India who take their name from an eighth century Hindu warrior-saint; various ethnic groups can be Gurkhas - they claim descent from the Hindu Rajputs and Brahmins of Northern India; first encountered in the Gurkha war of 1814-16 between Nepal and the British, the respect between them led to Gurkhas being recruited into the East India Company and later the British Army; famous for their kukris, a distinctive heavy knife with a curved blade, and their reputation as fierce fighters and brave soldiers; they fought in numerous campaigns and both World Wars; after Indian independence of 1947 six Gurkha regiments joined the Indian Army and four joined the British Army; currently the Brigade of Gurkhas (the collective name for the Gurkha regiments and units of the British Army) number 3,600 personnel; see here and here for more details.
---


Ok, done it. I actually feel quite sad now - leaving behind the desperate last minute searches for culture, the uncool bands, the dubious nature of some of the entries, the tedium of writing it all up (you never guessed ?), the efforts to conscript people to join me - but I guess that's a sign it was a good thing to do. Of course I can't just leave it like that, I need to have changed in some way. My intent is that I naturally do the kind of cultural activities I've forced myself to do over the last year. And - for old times sake - I've set up an 'Ad hoc culture' link on the site for the occasional write-up.

OVER AND OUT